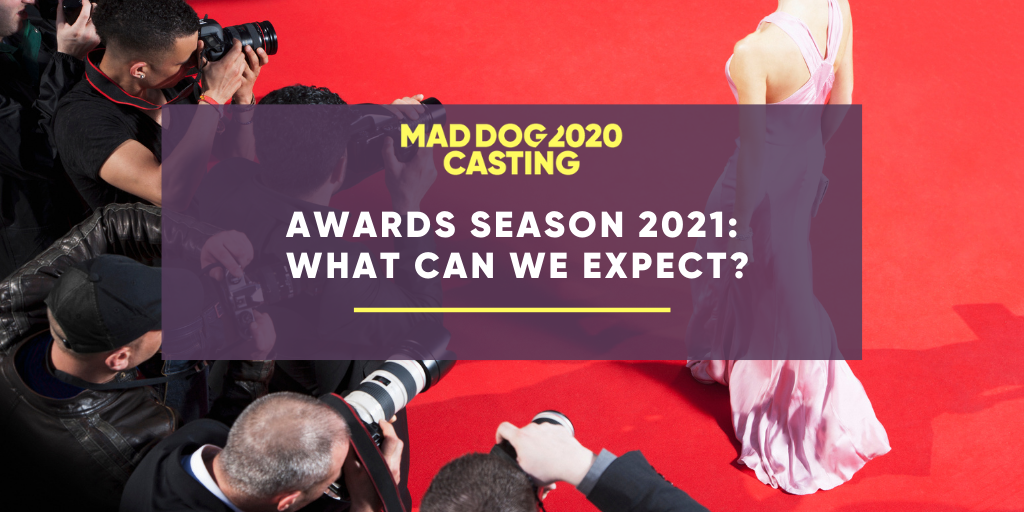 Film fanatics will know that by the end of February, the Golden Globes, BAFTAs and Academy Awards would have all taken place. However, this year the prestigious awards will be handed out later than usual, and probably virtually. Awards season 2021 will look slightly different to years gone by, with the prospect of no red carpets or 'normal' ceremonies, what can we expect to see this year?
The Show Must Go On
Recognising the talent of the film industry is an annual staple to celebrate the latest masterpieces of film. While we cannot celebrate in style as normal this year, it does not mean we can't celebrate the incredible talent of the year gone by. Last July we enjoyed the BAFTA TV Craft Awards from the comfort of our own homes, gaining the rare opportunity to live stream the normally closed ceremony. While this was an exciting first-time experience, it seems BAFTA paved the way for impending ceremonies to come. With talk of award shows turning fully virtual and even a socially distanced Oscars, we do not yet know what will be in store for audiences and nominees. All major awarding bodies have confirmed ceremonies will certainly take place and we can't wait to see how events unfold.
Changes to Eligibility
BAFTA and the Academy Awards have announced key changes to nomination criteria for this year, including extended eligibility periods for feature films. 2021 will also see two films from different years become eligible for awards at the Oscars for the first time since 1934. Other notable changes include nominations for films debuted on a streaming service without a theatrical release. This is a big break from tradition as the Academy typically only recognise films that have played in an LA cinema for a week or more. For now, it has been confirmed that the rule will apply this year only.
The British Academy Film Awards and Academy Awards will both announce their nominations in early March. Ceremonies will place on the 11th and 25th April 2021 respectively.
Who we're rooting for: TV
Mad Dog 2020 Casting worked on Steve McQueen's Small Axe which has gained huge global popularity following its performances and gripping narratives. Small Axe has now been nominated for Best Limited Series at this year's Golden Globes. So, we asked Senior Project Manager Jade to tell us about her experience of casting it's Artists:  
What was your experience of sourcing Supporting Artists for Small Axe?
It was great! We held a few registration days for new Artists, in preparation for the shoot. Everyone came dressed to the nine's – natural hair, outfits which wouldn't go a miss anywhere between the 60's – the mid-'80s. It was nice to chat in detail about the show we were about to start work on and the historical events surrounding it.
What did you think of the series?
I thought it was brilliant. The performances are fantastic, and they highlight some very important issues that are still on-going in society today. Small Axe has been nominated at the Golden Globes and Independent Spirit Awards this year. It will be very well deserved if it wins!
Who we're rooting for: Film
From writer-director George Clooney, The Midnight Sky premiered on Netflix in December 2020, in time for this year's nomination considerations. With the production having gained 34 nominations this year and counting, we asked Senior Project Manager Arron about his experience working on the film.
How did you enjoy casting the specific stand-in roles for The Midnight Sky?
I always enjoy matching the right Artists for the job. When casting stand-ins it's mostly about height, skin tone and whether they have any relevant experience. Stand-in's work closely with the AD teams so they need to be on their A-game as they can be called upon at any moment.
What did you think of the film?
I think George Clooney puts a lot of heart into the role. The sound and visuals are first class and I think it has a good chance of picking up some Best Score awards – Alexandre Desplat created the most beautiful score for the film. Our stand-ins did a splendid job, they really worked their socks off on this film. Hopefully, we will be able to call upon some of them soon for more opportunities.
---
Loving the Mad Dog 2020 blog? Check out last week's post here.