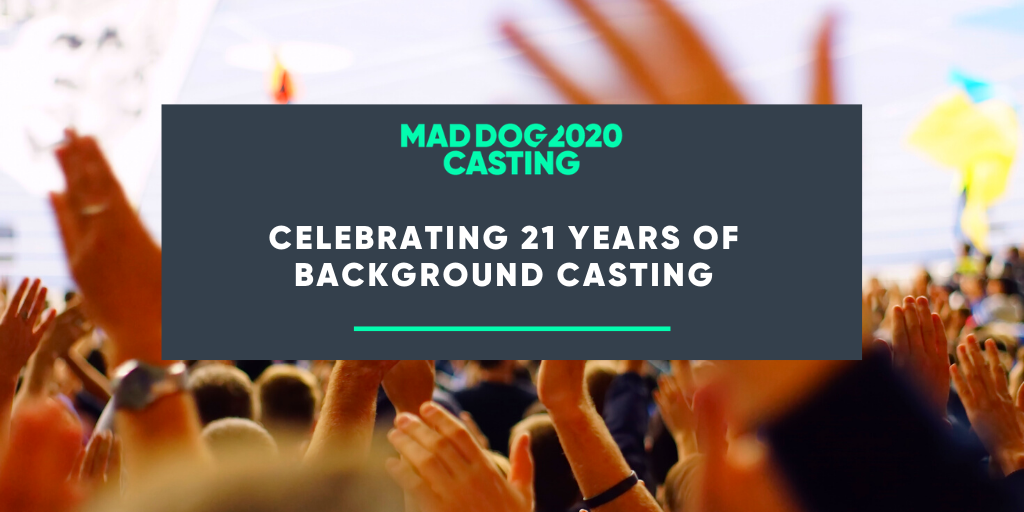 November 2020 sees Mad Dog 2020 Casting celebrating an impressive 21 years of bringing the best in background casting. We have provided background, featured and walk-on Artists for productions spanning the UK and beyond. From BAFTA-winners, huge scale features and small indie films, you name it, we have done it. While we cannot celebrate in style as we would like to due to Covid-19, we are still celebrating our achievements and the incredible productions that we have been a part of. Let's take a trip down memory lane.
Fantastic Films and Where to Source SAs
We are a reputable background casting organisation working on some of the most world-renowned productions to date. Crowd, featured, walk-on and background needs can all be met by Mad Dog 2020 Casting. From Aladdin to Love Actually, Fantastic Beasts and more, we've provided huge numbers on these epic global hits.
Mad Dog 2020 Casting regularly supply stand-ins and body doubles for major motion pictures too, including the likes of George Clooney, Kevin Bacon, Usain Bolt, Adrian Brody, Cillian Murphy, Tom Holland and Gillian Anderson to name a few.
21 Years Casting Terrific Television
When it comes to TV, the British industry is booming and Mad Dog 2020 Casting is well-versed in quick turnarounds. Managing the coordination of Artists and finding the perfect fit for each production is what we do best. Our books of Artists span the breadth of the UK, with a wealth of skilled SA's and character and period faces. They're ready to get to work on the terrific TV of today with the knowledge of what makes a great SA.
Whether it's 1930's gangsters, Go-Go dancers or golfers, Mad Dog 2020 Casting is the first call of the day for AD's. We've worked on some of the most successful shows to be made in the UK in the past 21 years. From Sherlock to Sex Education, comedies, high-end dramas, miniseries and long-running soaps – you're guaranteed to spot some of our SAs on screen right now.
21 Years of Global Commercial Success
Commercial productions are a huge industry in the UK. Idents, adverts, music videos and more are constantly in production up and down the country. Our experienced team of Project Managers have worked on countless commercial productions with brands like Adidas, Google, and Disney to name a few in the past 21 years.
Mad Dog 2020 Casting is always delighted to provide Supporting Artists for upcoming music videos too. Short films in themselves, the brief always requires a specific look, character and skill, so you can count on us to provide that. Ed Sheeran, Stormzy and Lewis Capaldi are just some of the recording artists we've worked with, and we even sourced SAs for the Grammy-nominated Harry Styles music video.
Check out the Adore You music video from Harry Styles, nominated for 'Best Video' at the Grammy's this week.
Stepping Outside of the Box
Supporting creatives in front of and behind the screen at all stages of their career is incredibly important to us. We are known for stepping outside the box, not only supporting the screen industry directly but championing change, curating conversations about topics important to us.
This year alone, Mad Dog 2020 Casting achieved:
Becoming a Partner of The Production Guild of Great Britain
Announced as official BAFTA TV Craft Partner
Supported Climate Crisis to Climate Action on Screen at BAFTA Guru Live Online
Became a sponsor of Screen Alliance Wales advocating education
Mad Dog 2020 Casting are now a recommended supplier by Albert
Connecting with our Artists in a new way, offering one-to-one Zoom feedback sessions
We have notably entered into two incredible partnerships, with both BAFTA and The Production Guild of Great Britain. Working alongside such prestigious organisations within the film and TV industry has cemented Mad Dog 2020 Casting as an organisation that connects, champions, and encourages creatives within the industry.
Here's to a fantastic 21 years and many more to come!