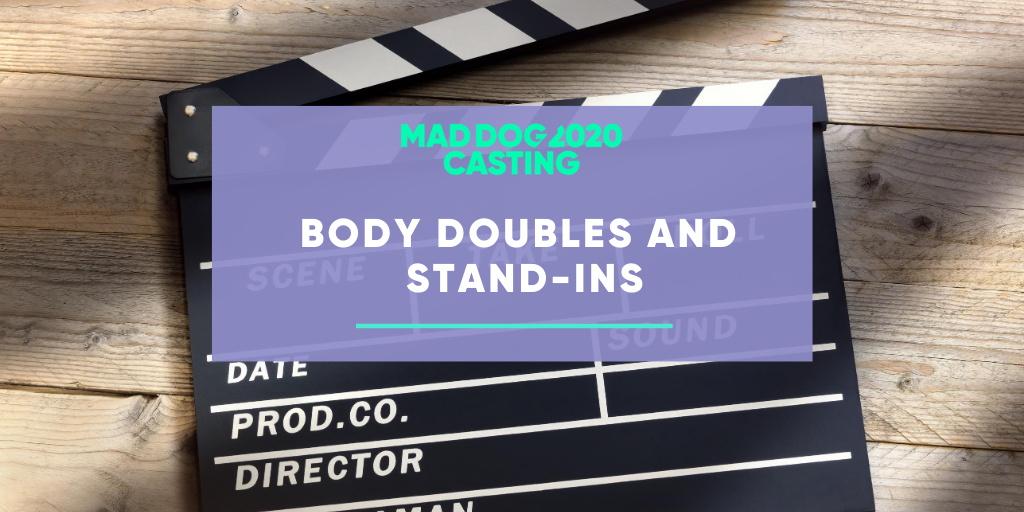 The role of a double or stand-in plays a hugely important role in the making of Film, TV and Commercial productions. Whilst some well-known actors may have a regular stand-in, body double or stunt double, often it is the case that productions turn to Mad Dog 2020 Casting to meet their needs.
Body Doubles
There is a perception that doubles are used in place of an actor for nude scenes or action-packed sequences, however it may surprise you to learn that this is not always the case. Mad Dog 2020 Casting has provided numerous artists such as hand, hair, and body doubles in recent years. We have an experienced team of Project Managers who are skilled in sourcing the perfect match for your production and have provided doubles for the likes of John Krasinski, Tom Holland and Demi Moore.
Stand-ins
Typically, an artist will be booked as a stand-in for lighting, technical or location purposes. Our artists know that standing in the place of an actor may involve many requirements, including performing movements or rehearsing lines ready for the actor to take over when the director calls "action!". We have a variety of artists on our books who have been booked as stand-ins for some well-known faces, on film, TV and brand commercials including Glenda Jackson, Kevin Bacon, Sophie Rundle and more.
Artist Experiences
Read what our Artists had to say about their experiences on set and what they have learned working in a different aspect of the production process:
Rudolph
Having worked on films such as Four Weddings and a Funeral and Maleficent: Mistress of Evil, Rudolph is an experienced artist who appreciates the importance of being a double or stand-in:
Tell us about your first experience?
I was a body double for Ving Rhames and I was also a stand-in on the second Maleficent film, for David Gyasi. It was truly an honour to be selected for both!
What has your experience taught you about roles like this?
I have learnt that as a stand-in/body double you have a responsibility to the actor to perform your best, advise the actor of first positions and movements you have just performed, listen to your radio, and watch the playbacks on the crew monitor. You must be able to take direction well, listen to the first AD and the director as to what they want to try and achieve in the shot. It also helps to read the script for the day (sides) to understand what each scene is all about, so you can get into character.
Ryan
Ryan has been booked as both a body double and stand-in on both film and TV productions, including an upcoming Netflix film directed by George Clooney. We asked him to share his experience with us:
What was your experience like and what have you learnt being a stand-in?
It was a great experience, one of the best I have had in my time working in this industry. I always had to be alert and watch how David acted out each scene to replicate that if needed. You get to see how much preparation is needed for these things and so you do your best to help the process run smoothly.
You also worked as a body double on Top Boy, can you tell us about this?
Working as a double can be more demanding, as it is more important for you to know sides and lines by heart to help the actors. You are kept in full costume, so you must always be fully prepared so that everything is seamless. I keep calm and relaxed so the actors can concentrate and be prepared for their scene. Sometimes they may ask you to run through the lines quickly, but in general it's about being as helpful as you can and following instructions.
Katie
Katie has worked as both a stand-in and body double on set, including as a double and stand-in for actress Gillian Anderson, on Sex Education:
Tell us about your experience working on Sex Education?
I was booked originally as a hand double and then also used in other scenes. Gillian's costumes (which were lovely to wear) were a great fit on me, apart from her shoes, which were too small for me! Even though it was my hands that were used, I was fitted with a short blond wig too as my hair is long and brown. I was filmed typing on a laptop with the camera filming over my shoulder. My hands were also filmed moving some drawings around on Otis' bed. I learnt that in these types of roles you have much more interaction with the director and it was a fun, rewarding experience.
Can you guess who these Artists have been doubles or stan-ins for?
---
If your production is seeking a body double or stand-in for an upcoming shoot, visit our contact us page to share your requirements and one of our Project Managers we get back to you.