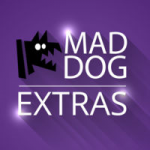 Mad Dog 2020 is making changes to how our artists sign in to their accounts, both online and via mobile app. At Mad Dog 2020 we take data security very seriously which is why we are introducing two-factor authentication for all online accounts. From 6 November, in addition to the current login using your Artists ID and password you will be asked to select either EMAIL or TEXT as a method to be sent a unique code to the registered email or mobile phone number we hold for you. This code will be requested in order to give you access to your account. Each time you login you will be provided with a different unique code.
You may already have seen that we use reCaptcha, as part of our security measures, and you may also be asked a question or asked to tick a box to verify that you are a human and not a robot. Introducing two-factor authentication is part of a series of upgrades we are making to improve your experience and protect your data. The protection of data is of paramount importance to us.
There are two ways artists can access their accounts, online or via the Mad Dog 2020 app "Mad Dog 2020 Extras" which gives 24 hour access to enquiries, check ins, your account and our messaging system for communication  with us from your mobile device (mobile phone or tablet). We recommend you switch from online access to the Mad Dog 2020 Extras app. Please click on the app store button for your device below.
We welcome feedback about the app from Mad Dog 2020 artists, please email info@maddogcasting.com.