In a new series of sitting down with production professionals, Mad Dog 2020 chats with Line Producer, Lara Doree to discuss her experience of the UK Film & TV Industry. Having worked in production for the past 5 years, Lara has line produced television and film, such as feature film 'Love is Thicker Than Water', the world's first interactive film 'Late Shift' and Channel 4 drama 'Unspeakable'.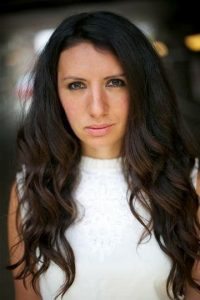 As a Line Producer, what qualities or attributes do you look for in people you are looking to employ or work with?
"I purposely work with a lot of the same suppliers over and over again. I often work with the same crew but as people's diaries change there's always lots of new crew and new relationships to form as well. For me, it is important to foster good relationships with individuals. It can be a tough industry and you have to have well-grounded relationships, with crew and suppliers. It makes all the difference to the job, especially when things don't go as planned, you know you've got people that you can rely on. As with any industry, you've got to be personable and go the extra mile if you want to build valuable relationships and people remember those that do go above and beyond. Honesty is another really important trait, you can't just talk the talk there has to be substance to what you say and do."
What is your favourite thing about being a Line Producer?
"Being an integral part of a production from start to finish is a really gratifying part of being a Line Producer and being heavily involved with all departments from casting to catering. You come up against a lot and you solve a lot so seeing all the pieces fall in to place for the final product is really rewarding. You begin to see difficulties more as challenges and the job is certainly never dull!"
What are the main things you've learnt whilst working in the entertainment industry and do you have any advice for those looking to work in it?
"Flexibility is absolutely key in this industry, it is stressful, and you have to be prepared for constant changes. No matter how much planning you do, there will always be last minute changes and you just have to learn to roll with it. I've found that stressing about things is just an inefficient use of time, if you can't change something, you adapt and there is always a solution.
Being a team player is so important because while this industry is big, it is also really small. Saying 'yes' to opportunities is crucial to working your way up and securing work. Having a positive attitude helps everyone around you as much as it helps you."
How did you get in to the industry?
"I come from a creative background so began in the industry as an actress. I gradually moved in to production, first developing in theatre and then on to film and television. By producing my own projects, I was spotted and invited to collaborate on other projects. I was incredibly lucky and supported by those around me, it wasn't a particularly conventional route in to Production Managing and Line Producing in that I didn't do the 'usual' ladder but it was a natural progression for me. It was almost one of those things that you don't even realise you're doing your next role until you're doing it…"
What does the future of film look like?
"From experience, the future of film is interactive. I worked on a film called 'Late Shift' which was interactive, it works on both tablets and in cinema. In the cinema, you use an App and the story line goes to majority vote. 'Late Shift' had multiple strands and seven different endings. Ctrl Movie, who came up with the software, are now collaborating with Twentieth Century Fox to make more interactive movies. It is really exciting to be involved in such innovation and seeing the new directions film is heading in."
If you had an unlimited budget at your disposal, what would be your dream production project?
"Strong visual effects really take films to the next level and it is so evident in the bigger budget productions. Films like 'Dunkirk', 'La La Land' and 'The Greatest Showman' are good examples because if you've already got a great screenplay in hand, the place you can really throw money at is the visual effects (sometimes the great screenplay isn't even there!)
I think a big war film would be really great to work on, something that has real impact on a big screen. Dunkirk's scenes on the beach and at sea are incredible to watch. I love a challenge so if budget was no consideration, I'd really stretch myself on the visual side of things.
I think Hulu have done a great job on 'The Handmaid's Tale' and as a book, it really stuck with me so adapting something like that would be high up on my list."