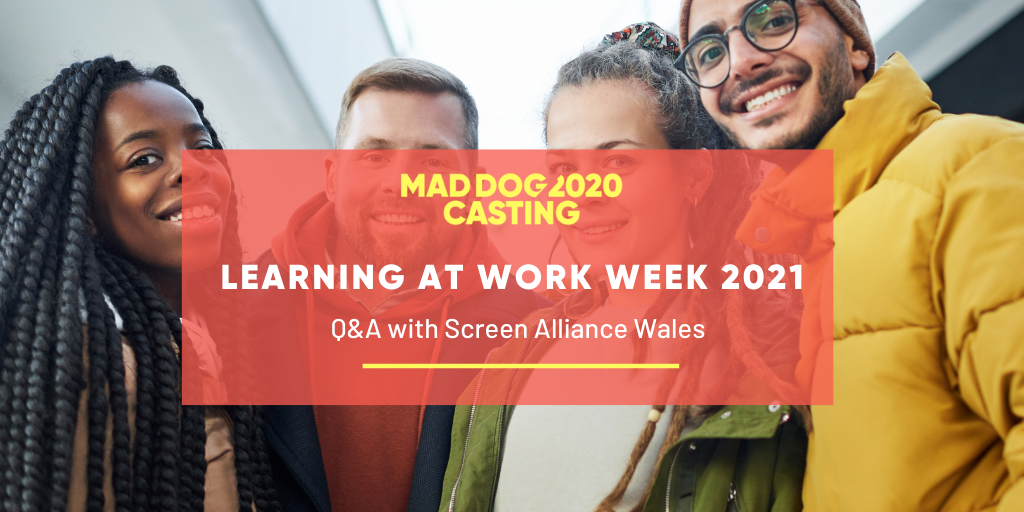 Mad Dog 2020 Casting is passionate about inspiring and supporting creative people – we believe in letting creativity flourish.
In honour of Learning at Work Week, we spoke with Screen Alliance Wales, a Welsh organisation that realises the potential in talent, development and learning in the film and TV industry. They promote crew, services and job opportunities in Wales, connecting craftspeople and educating the next generation of filmmakers.
Why are Screen Alliance Wales passionate about teaching the next generation?
Screen Alliance Wales are passionate about opening doors for the next generation. We want people to see there are opportunities out there for anyone who wants to work in the film and TV industry, regardless of their background.
Educating people from a very early age about this industry and the varied jobs that exist within it is vital so they can really aspire to be whatever they want to be. We are also dedicated to showing Welsh learners that being successful in this industry is possible to do whilst staying in Wales. There are a huge number of opportunities on their own doorstep.
Why do you think it is important we celebrate Learning at Work Week?
We champion learning – our whole ethos is based around education and learning.  We want to provide young people with an entry into the film and TV industry so they can learn from others and continue to grow as they progress throughout their career. 
Knowledge is never static, particularly within this industry as technology and techniques are constantly evolving. This week is a great way of reminding everyone that we should all be committed to a lifetime of learning as we can always improve no matter how experienced we may be.
What developments would SAW like to see come from the filming industry in the next year?
Screen Alliance Wales would like to continue to develop training in areas which have a shortage of crew such as Accountancy, Legal and Health and Safety to name a few. We are keen to help those in non-film careers realise they have transferable skills which can be applied to film and TV, for example, those working in theatre or events. In addition, we want to see an increase in the number of people from underrepresented groups working within this industry and we are committed to helping make this happen.
What has your organisation recently learnt at work?
The way Screen Alliance Wales works has completely changed since COVID-19 and we have adapted to a new way of working. Because of this, we have been able to reach an even wider cohort of young people across the whole of Wales via remote learning and technology. Although it has been a steep learning curve, it has been extremely beneficial for both us and the young people we work with.
Supporting the next generation
Screen Alliance Wales have taught us that it is important to continue to build on knowledge and stimulate your brain whatever industry and level of your career you are at. Investing time in supporting creatives producing the entertainment of tomorrow is valuable to us, and this why Mad Dog 2020 Casting is a sponsor of Screen Alliance Wales.
With Learning at Work Week just around the corner, what can you set your sights on learning next?
---
Screen Alliance Wales have an extensive database of film and TV craftspeople accessible via their website. If you are a production company or freelancer seeking to connect with industry craftspeople visit the Screen Alliance Wales website here.
Learning at Work Week runs from 17th- 23rd May.