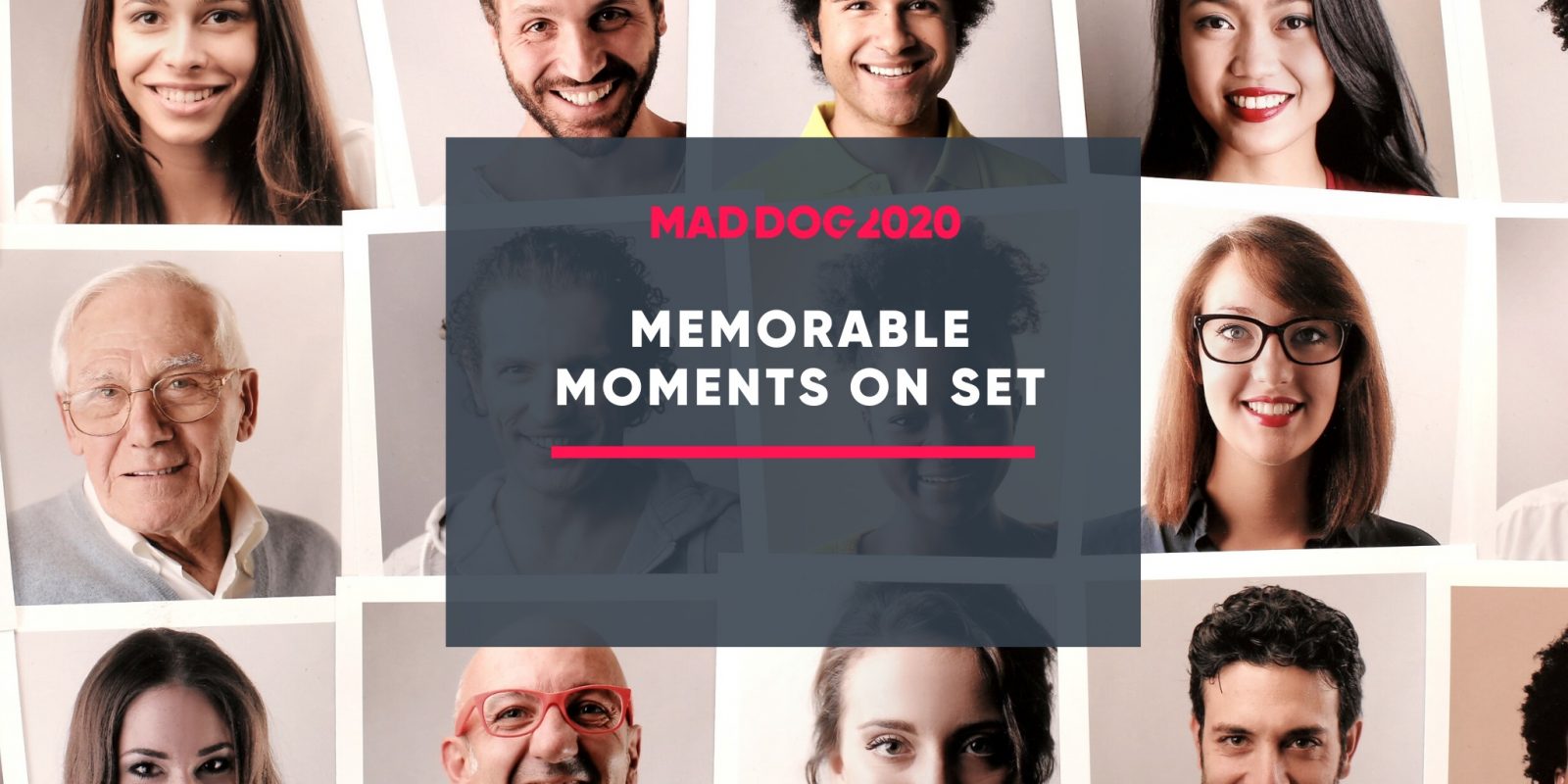 Many Artists make life-long friends on set, get the opportunity to meet and work with some of the biggest stars on screen and be a part of film and TV history.
In a bid to spread joy and positivity, we asked our Artists to share their most memorable experiences on set with Mad Dog 2020.  Although productions around the world have paused due to COVID-19, now is the perfect time to look to the future in hope and excitement for what is to come when filming recommences.
Here's what you said about your experiences:
"I've met some lifelong friends and many really nice people" – Michelle, Supporting Artist on Spiderman: Homecoming
"My most memorable experience on set was my first day on set of Sex Education! It was so fun and everyone was so lovely, I ended up being in every episode and both seasons!" – Isobel, Supporting Artist on Netflix's Sex Education
"Every job through Mad Dog 2020 is always a memorable experience. Most recently I was a hand double on Liar series 2 and it was very enjoyable to meet the lead actors" – Bradley, double and Supporting Artist on Liar
"Waving a Magic Wand was pretty incredible especially the wand schooling" – Alex, Supporting Artist on Fantastic Beasts and Where to Find Them
"Being a featured Artist in Brave New World gave me the possibility to work in continuity and made me feel part of a big family. I felt sad when it was over, but with great, positive memories" – Gabriele, Supporting Artist on Brave New World (coming soon)
"My first ever shoot was Peaky Blinders. Cillian Murphy called me back after a scene to see if I'd do an actual fight scene with him – filling in for Adrien Brody! It was a surreal experience and a great day of filming!" – Lewis, body double and Supporting Artist on BBC's Peaky Blinders
"All of my experiences on set have been positive, I enjoyed working on a Muller yoghurt advert, the crew were extra lovely and we got to take lots of goodies home after too." – Saffron, Supporting Artist on Muller commercial
"Working on Britannia as a Rebel Rork was so much fun, we worked on fight scenes and really got to know each other. As it was a shoot lasting for a good few days we really bonded. The scenes were fun, and the sets were amazing" – Domenica, Supporting Artist on Sky Atlantic's Britannia
"Being a walk-on Artist for the new ITV Drama QUIZ. I had to act out an emotional scene and the make-up team put some very cool fake tears on me. It was a lovely team and lovely job!" – Amy, Supporting Artist on ITV's Quiz
 "My experience on BBC's Years and Years was great. It was an opportunity to meet new people from all walks of life" – Lisa, Supporting Artist on Years and Years
"Playing Robert Carlyle's bodyguard in Cobra was a memorable moment for me. Travelling to London was especially fun and I learned a lot about the film industry" – Darren, Supporting Artist on Sky One's Cobra
"I worked alongside Gary Oldman two weeks after he won the Oscar for the Darkest Hour which was great!" – Lee, Supporting Artist most recently seen on Save Me Too
"I once had to hit Billie Piper on the head with my very large, heavy, red bag!" – Heidi, Supporting Artist on I Hate Suzie
"I especially loved filming a Mercedes commercial with Lewis Hamilton – unforgettable experience, I'm very grateful" – Maria, Supporting Artist on Mercedes Commercial
"My experience getting fitted for costume for Britannia was eye opening. The amount of detail and effort that went into every Artist's costume and make-up was incredible" – James, Supporting Artist on Sky Atlantic's Britannia
"My most memorable experience was, to me, a perfect example being in a great photo/model shoot. The director personally selected and placed each SA that he wanted in his frame" – Fay, Supporting Artist on Brew City commercial
 "Easily, working on The Split last year for 6 weeks made me realise why I love being a SA. We worked Monday to Friday each week with the most amazing set of people" – Anne, Supporting Artist on BBC's The Split
"I enjoyed getting to be a part of one of Noel Gallagher's music videos. I grew up listening to his music" – Joshua, Supporting Artist on Noel Gallagher music video
"I had a great time working on the set of the upcoming Little Birds when the hairstylist turned my Afro into a pompadour anyone would be proud of! Great team on set and the director was always full of so much energy!" – Rajiv, Supporting Artist on the upcoming drama Little Birds
 "Myself and two others had the opportunity to do a line in a scene and I was very nervous on set. After the first take, the director walked past and gave us a smile and thumbs up. It was a very memorable moment, as I knew then the way we delivered." – Eleanor, Supporting Artist on Brave New World (coming soon)
"It's hard to pick just one. I think what I remember most of all is I met a main actor on set one day… a few months later I worked with him again on another production and he remembered me and came up and gave me a hug!" – Rod, Supporting Artist most recently seen on Sky TV's I Hate Suzie
Staying connected with our Artists during this unusual time is incredibly important to us. We've introduced one-to-one Profile Surgery for Artists, and we'll be keeping you busy with various competitions and quizzes over the coming weeks too. Make sure find us on Facebook, Instagram and Twitter to join in the fun!
________________________________________________________________________________
Have you got a memorable experience on set that you'd like to share with us? Get in touch via AppChat and let us know, we'd love to hear from you!
Don't forget to keep an eye out for our #TuesdayTips on social media to gain top tips on how to improve your Artist profile and chances of being booked in the near future!