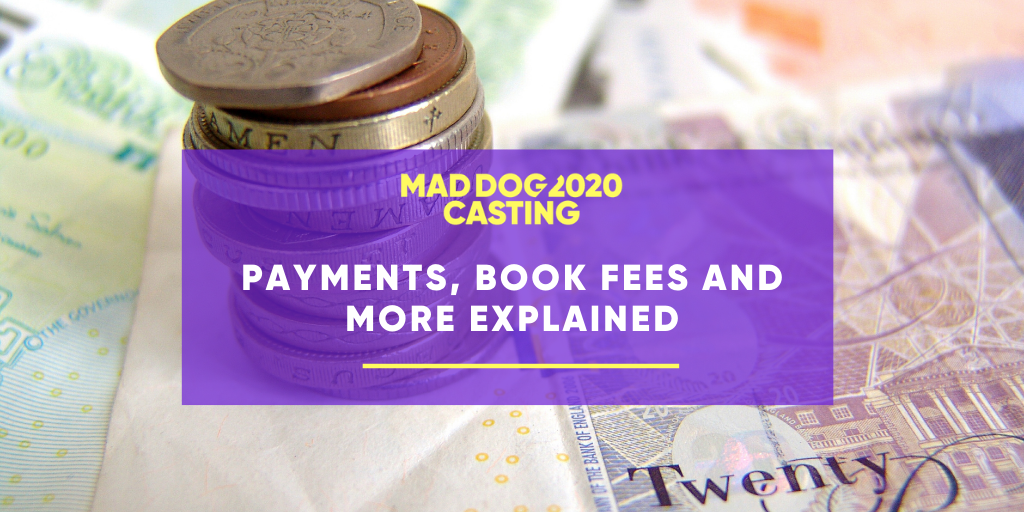 Today, we are giving you a run-down of all aspects of payments for Supporting Artists that are registered with Mad Dog 2020 Casting. We know that new Artists may have queries about the payment process and how it works, so you can find everything you need to know right here.
Rates of Pay
The rate of pay will always be stated in each enquiry you are sent. If you need to familiarise yourself with the current rates, visit the Pay Rates page of our website here.
The productions we work with set the rate of pay that they will use for their own production, meaning that while we do not make the decisions regarding how much an Artist will be paid for a role, Mad Dog 2020 Casting always work with a union to ensure that Artists are working to approved industry rates. This covers everything from FAA to Equity, BBC and more. If you have a query about a specific rate, please contact our Artist Support team for assistance and our team will be happy to help.
Payment to Artists
Payments take around 6-8 weeks to reach you as a guide, however if we receive payment from the production company sooner than this, it will be deposited to your bank account straight away.
Top Tip: Don't forget to add your bank details to the payment page of your profile, without this information your payments will not reach you.
Our team cannot input your banking details on your behalf; however, you can contact us if you need advice on how to input your details or locate the correct page of your profile.
Book Fees
At Mad Dog 2020 Casting, we deduct one annual book fee (sometimes referred to as a registration fee), from the first job of every year.
For example, if your first job of this year is in September 2021, your book fee will then be deducted from that payment due to you and a book fee will not be processed again until your first job of 2022.  If this is in March 2022, that is when the book fee will be deducted.
The sum of the book fee will vary depending on your location*:
London: £61.25
Wales & Mid-West: £32.50
Scotland: £32.50
North of England: £32.50
The above information is also listed on the Pay Rates page of our website. Remember, other agencies may work differently so please ensure you check with your agency what their book fee is, how it is deducted and when. We also recently extended 2020's booking period due to Covid-19, so please check out the announcement here.
*The book fee is also subject to VAT and will only be deducted if you work on a production with us.
Commission
A 15% commission is subtracted from each job you do, which is standard at most other background casting agencies. As a reminder, we would never ask for any payment from you upfront and would advise against an agency who requested this of you.
Chits
A chit is your salary voucher detailing the breakdown of your payment. For some productions, you will be sent a chit via email, within 1-7 days of you attending. You must verify this and 'accept' your chit. However, other productions may ask you to sign a physical copy whilst on set. Please note that the chit email may go into your junk folder so please keep an eye on this.
Tip: If you have a query about your chit or believe any information to be missing/incorrect, please do not accept it in the email you have received, but reply to it via email and this will be sent directly to our accounts team who will investigate your query.
Please note: chits detail a breakdown of payments you are due to receive from production, chits do not include the deduction of your book fee and commission which will be taken by Mad Dog 2020 Casting.
Commercial productions do not issue chits.
————————————————————————————————————————–
For any changes to the above, ensure you follow us on Facebook, Instagram and Twitter for the most up to date information, and keep an eye out for our monthly Mad Dog 2020 Casting Newsletter the first week of each month. All topics covered in this blog post are correct as of 2nd April 2021.
If you have any queries not addressed in this post, please contact our Artist Support team for assistance. Office hours are 9:30 am – 6:00 pm, Monday – Friday.