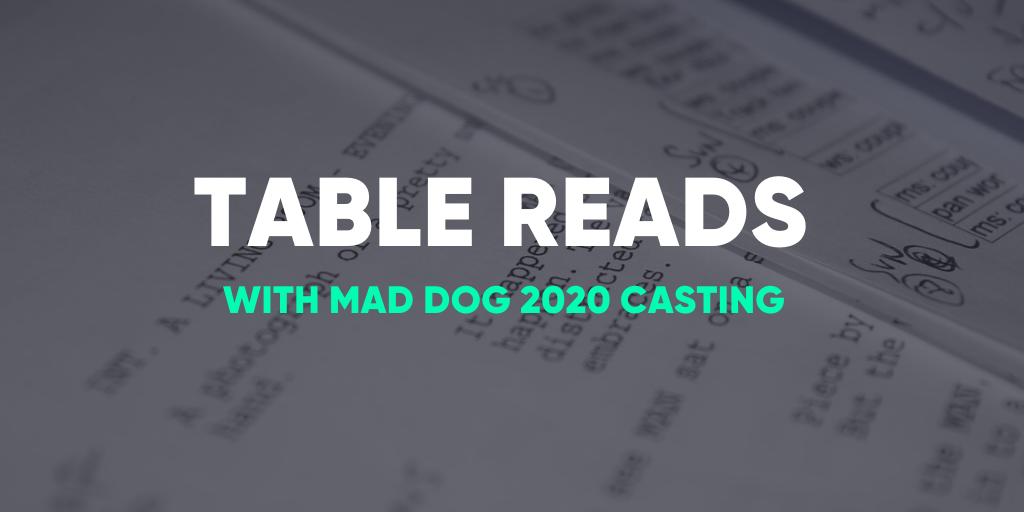 At Mad Dog 2020 Casting, we are dedicated to championing up-and-coming talent in the film and TV industry.  So this week, we're talking about table reads.  A table read, also known as a script read-through, is an organised reading of a script in the final stages of production, and offered by Mad Dog 2020 Casting.
The Importance of a Table Read
A sit-down table read with an ensemble of experienced Artists is the perfect opportunity to hear your script in a way that you haven't yet.  Filmmakers can use this opportunity to identify strengths and weaknesses within a script.  An essential part of the development process is to sharpen dialogue and fine-tune your script before shooting begins, with the help of our skilled Supporting Artists you can make this a reality.
5 Reasons to book your Table Read with MD2020
The opportunity to read through the entirety of your script in one sitting.
Hearing the words of your script come alive offers a new perspective of your text.
We have access to thousands of Artists across the UK with professional acting experience, skillset and language skills.
The opportunity to receive and discuss instant, unbiased feedback from our Artists, Project Managers and your team in one room.
Mad Dog 2020 will ensure your table read runs smoothly. We have a large, open space in the heart of Ealing studios, Cardiff City centre, Glasgow and Manchester.
Bring Your Script to Life
We have been providing Supporting Artists in the Film and TV industry for over 20 years.  Our experienced team hold backgrounds in casting, acting and production too, and can be on hand to provide unbiased feedback.
A table read is an important step to consider as part of the filmmaking process.  We highly recommend this opportunity for those wanting to experience their script in real life.  From first-time filmmakers or industry veterans, securing your table read with Mad Dog 2020 can unlock new potential in your project.
With access to an array of artists, actors and experienced industry professionals we can help bring your script to life.
_______________________________________________________________________________
To discuss the potential of your table read with Mad Dog 2020 Casting, contact krissi@maddog2020casting.com