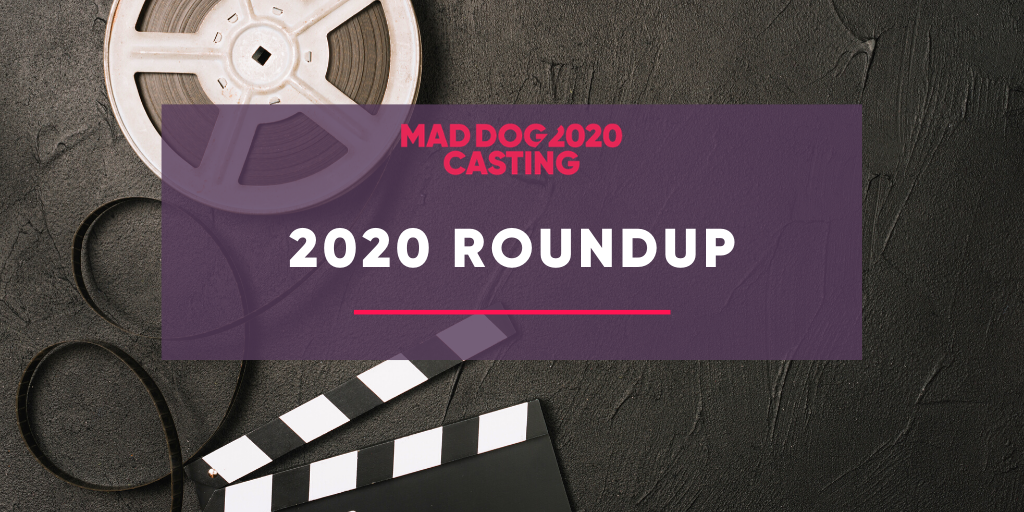 This has been a year like no other – and despite a global pandemic, it has proved productive for many, and transformative too. Mad Dog 2020 Casting has embarked on new partnerships, worked on a host of new and returning productions and enjoyed connecting with our Artists in new ways.
While 2020 may have brought the filming industry to a brief halt, productions came back bigger and better than ever, proving nothing could stop our outstanding industry. Today, we are looking back on the year gone by and another excellent year for film, TV, commercials and casting.
images:imdb
Fun Facts For 2020
In 2020 Mad Dog 2020 Casting…
Provided Supporting Artists for more than 71 TV shows and counting including Small Axe, Life, Brave New World and Guilt
Worked on over 175 commercial productions including Disney, McDonald's, Mercedes and Guinness
Became Official BAFTA TV Craft Partner
Taken on a new Project Manager in our Glasgow office
Sourced Artists for more than 10 feature films including Death on the Nile, The Midnight Sky and a top-secret live-action remake
Provided SA's for some fabulous festive commercials including ASDA, ITV and JD Sports
Embarked on a new Partnership with The Production Guild of Great Britain
Booked one of our SA's as the first real person to be seen in a Wallace and Gromit augmented reality adventure
Provided mermaids, musicians and Moordale High School students for some of the UK's largest productions
Became sponsors of Screen Alliance Wales
Sourced Supporting Artists for music videos including Noel Gallagher and Royal Blood
Held over 471 one-on-one Profile Surgery advice sessions with our SA's on Zoom
Sourced body doubles and stand-ins for RuPaul's Drag Race, George Clooney and Kevin Bacon
Celebrated award-winning and nominated productions we have been privileged to work on: Gentleman Jack, Elizabeth is Missing, Mogul Mowgli and more
Welcomed great new and existing relationships with AD's and Casting Directors around the UK and beyond
Celebrated 21 years in casting industry
Predictions for 2021
Mad Dog 2020 Casting has cast an array of weird and wonderful roles during 2020. We've sourced SAs to take on the parts of mystical creatures, cult members, elves and many more strictly under wraps! The new year is looking to be very busy with numerous productions starting up from January onwards! We're already getting to work on more exciting roles.
While we cannot always predict what the future will hold, the future is certainly looking bright for film, TV and commercials. There are hundreds of new and returning TV shows coming your way in 2021 with lots to look forward to, to film and to watch.
With some feature films pushing release dates so that audiences can enjoy cinema as it was meant to be enjoyed next year. It certainly promises to be a packed year for fantastic films coming soon in 2021. At Mad Dog 2020 Casting, we can't wait for some of these epic productions to hit cinemas and screens featuring our superb Supporting Artists. Keep an eye on our social media channels to get the latest news on what's coming up.
Thank you to you
Thank you to our wonderful Artists, clients and staff who have made 2020 an incredible year for the industry when many questioned when normality would resume. Mad Dog 2020 Casting is delighted to have provided Supporting Artists for so many well-loved and upcoming productions, allowing our Artists to work on exciting projects and enable our Project Managers to continue doing what they love most and do best.
For the latest news and updates, keep an eye on our social media channels and our news page.
Here's to a terrific 2021 and lots of exciting new projects on the horizon!