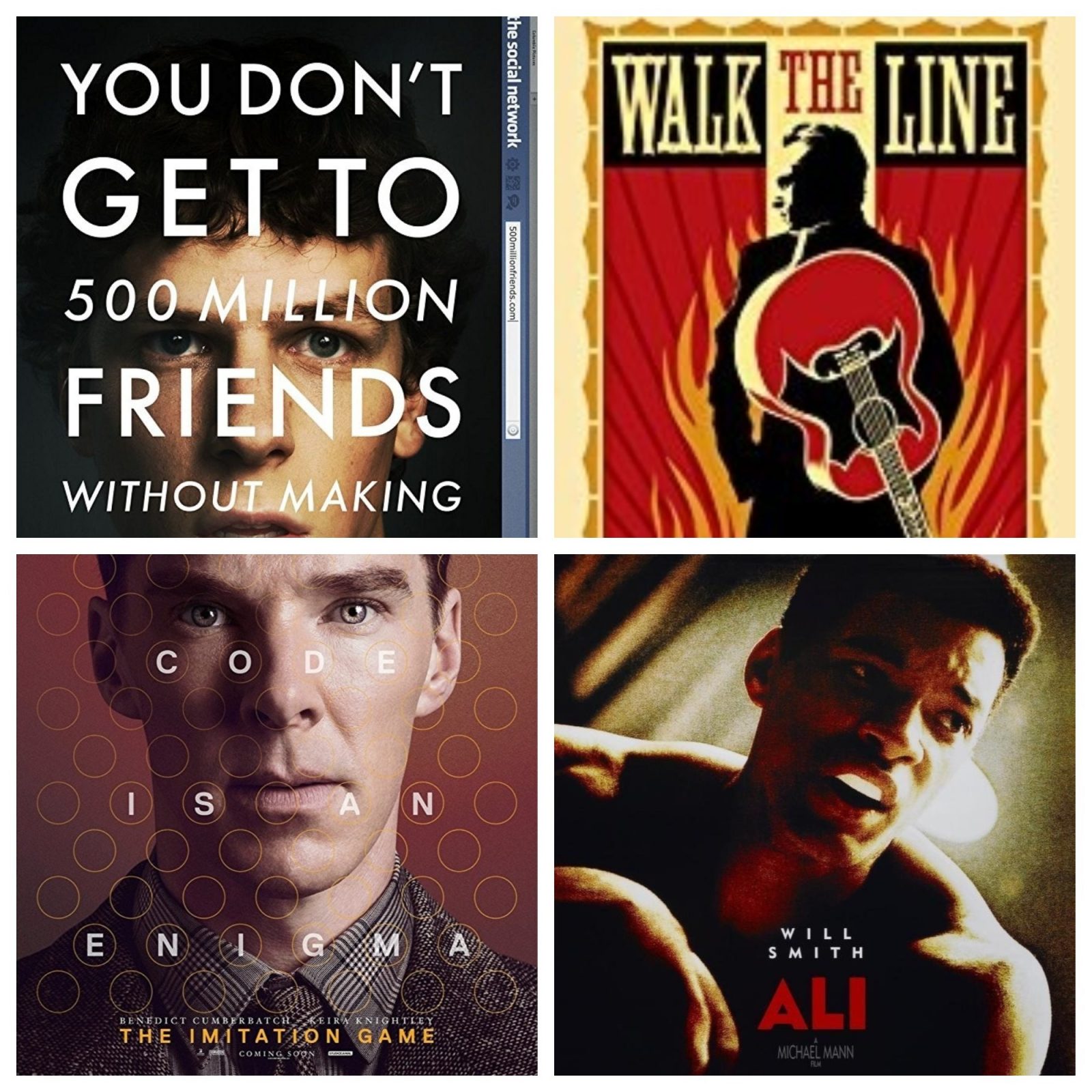 Biopics – a challenging task for filmmakers and actors alike. Taking a person's life story and adapting it for screen whilst honouring their history and pleasing all the parties with vested interests is no easy feat. That is before you consider fitting a life story in to an appropriate film length and then casting the right cast…
We've compiled a list of some of our favourites below:
The Social Network
Bizarrely, A-lister Natalie Portman reportedly gave more insight to writer Aaron Sorkin about life at Harvard during the time Mark Zuckerberg attended than anyone actually involved in the actual events or the film, as she was studying there at the same time. A lot of the real-life characters deemed the film's story largely inaccurate and did not have much, if any, input on the film. In fact, Justin Timberlake was the only actor to have met his real-life counterpart before filming. The other actors did however do some pretty in-depth research, with Jesse Eisenberg (who played Zuckerberg) sourcing Zuckerberg's college application and taking fencing lessons. The film was met with praise from film critics and is a favourite David Fincher film of ours.
Walk the Line
Both Joaquin Phoenix and Reese Witherspoon performed their respective songs and learned their instruments for the film to portray Johnny Cash and June Carter in this brilliant biopic. The real Johnny and June reportedly approved Phoenix and Witherspoon for their parts, with Johnny liking Phoenix in 'Gladiator'. The film took 8 years in total from securing the story rights to getting it made and June Carter Cash's and Johnny Cash's only son John Carter Cash was an Executive Producer on the film. You don't have to love Cash and Carter's music to appreciate this film, so pop it to the top of your watchlist if you haven't already had the pleasure of watching it.
Imitation Game
So often there are critical points and people in history that aren't recognised nearly enough until the glitter of Hollywood makes a movie on the subject. This film is one of those. Benedict Cumberbatch's turn as Alan Turing, the cryptanalyst whose team cracked the German enigma code during World War Two earned him an Oscar nomination along with the film being nominated in nearly every other major category at the Academy Awards. According to Ancestry.com, Benedict Cumberbatch and Alan Turing are actually related in real life, the two are 17th cousins with family relations dating back to the 14th century. Turing suffered heart-breaking injustice throughout his life and this film is a touching testament to a man Britain owes a lot to.
Ali
Taking on sports legends is perhaps one of the more difficult characters for an actor to portray, taking on that extra element of physicality. With a personal life as noteworthy as his sporting career, the film spans 1964 – 1974 and reportedly, the real Muhammed Ali wouldn't accept Will Smith turning down the role and persuaded him to take it on account of Smith being 'the only one as good looking as him, that could play the role'. Smith gained 35 pounds of muscle for the role and undertook a gruelling training regime, which more than paid off and he delivered a 'knock out' performance (sorry, couldn't help it!) with his only Oscar nomination to date.