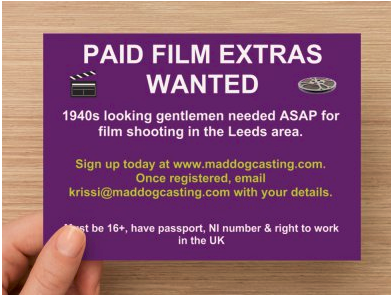 If you are flexible with your time and very reliable and if you have been thinking about trying film extra work Mad Dog 2020 need people now!
We need people throughout the summer, as early as this week to work on a great sports themed film. To apply fill out our short form on www.maddogcasting.com and then email Krissi@maddogcasting.com if you would be available on 27, 28 and 29th July.
The film is set in the forties and we are looking for men who are clean shaven with no visible tattoos or piercings and with a short back and sides haircut! Shooting is across Yorkshire in locations including Bradford, Leeds, York and Sheffield.
Apply Now