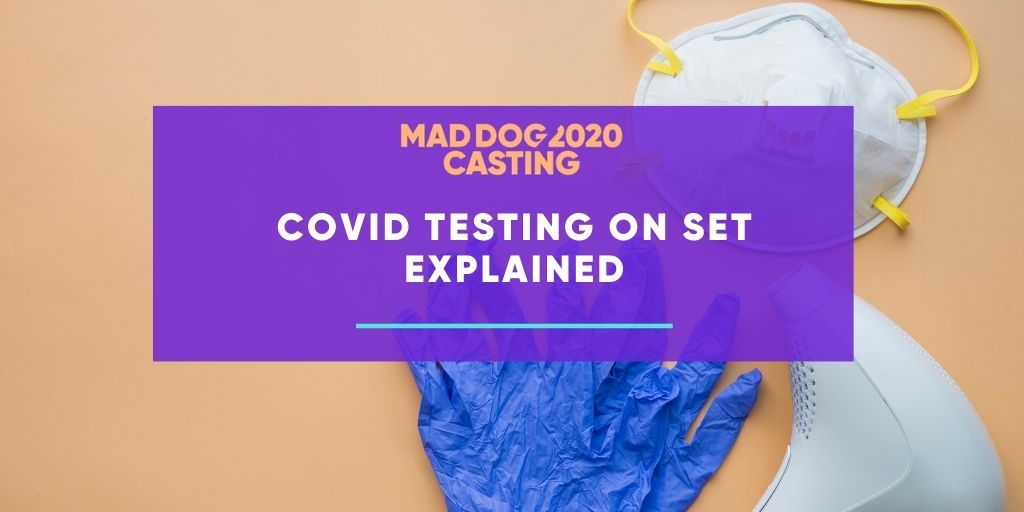 You may be aware by now that productions need to regularly test cast, crew and Supporting Artists for COVID-19 to ensure a safe working environment on set. Tests are part of a mandatory health and safety protocol that aid in preventing the spread of the virus and ensuring the safest set possible.
The ins and outs of Covid test
Mad Dog 2020 Casting are sending enquiries the usual way, reaching out to those who fit role requirements for upcoming productions. You'll also now be asked for your availability on 'test days', which refers to COVID-19 tests.
You may be given the option to select the most suitable dates for you or there will only be one non-negotiable test date. Due to strict health and safety rules, if you cannot attend the Covid test dates in your enquiry you cannot be put forward and considered for the shoot dates.
Each production we work with might work differently. This means, one production may require you to undergo one test, while another may require a minimum of two tests. The number of tests stated in an enquiry is mandatory and must be adhered to as per the production's request. You cannot work on set without undergoing prior testing.
How is a test performed?
Covid tests are being performed with a swab in the mouth or nose, this may vary so please ensure you are happy to undergo both before stating your availability.
Check out this video from the Guardian about Coronavirus tests.
A test is very short and can take around 10 minutes. However, as soon as you have undergone your test you will be able to leave the location and go about your day.
Ensure that you follow the guidelines in your check-in with regards to details for the test day, and contact us if you have any queries.
Bookings, locations and call times
If production would like to book you, you will receive a booking confirmation for your shoot day and separate Covid test booking confirmation. Mad Dog 2020 Casting organise your covid tests with the production companies and as with shoot dates, you will receive your check-in the day before the test. This will include your call time and exact testing location.
The number of times you need to undergo a test, along with the testing location and call times are all set by the productions we work with. Due to organising a large volume of tests as well as health and safety protocols, all tests must be done at the location specified.
Covid test FAQs:
Do I have to have a Covid test?
If stated in an enquiry that you must attend one or more Covid tests, this will be mandatory. Due to health and safety requirements, you will not be allowed on set without undergoing these tests.
I had a Covid test last week, can you use that?
Unfortunately, no. Each production must complete their own Covid tests within a set amount of time and hold a record of results. Therefore, you must undergo a new test if required.
Do I have to pay for a Covid test?
No. Covid tests are paid for by productions and they will also pay a testing fee to Artists for undergoing them. Please refer to your availability check to confirm the testing fee. This can vary depending on the rate of pay.
Can I get a home test or test closer to home?
All tests must take place at the location specified by the production. Requesting a home test means using NHS resources which is not necessary and puts added pressure on our health services. You will be given a rough location in your booking confirmation, then an exact address confirmed in your check-in. If you foresee any issues with getting to the location please contact us as soon as possible.
The enquiry states that I should attend two tests, but I can only make one, is this okay?
The number of tests required is set by production and is mandatory for the health and safety of everyone on set. You must attend both tests.
I've received my check-in, but I'd prefer a different time, can you change it?
Productions need to gather test results within a certain period of time, so you must attend your allocated time slot. We can request a time change if necessary, however, this is not always possible for production to accommodate. Some productions may only test morning or afternoon or on a certain day of the week. Please contact us if you foresee an issue with your call time.
Do I have to self-isolate after a Covid test?
Some productions may require you to isolate for a certain period of time following a test, prior to filming. It will be very clearly stated in your enquiries if you are required to isolate, you will be paid accordingly.
Can I can travel to set with a friend?
Please refer to government guidelines regarding whether it is advisable to mix with someone outside of your household:
UK Government website: https://www.gov.uk/coronavirus
Welsh Government website: https://gov.wales/coronavirus
Scottish Government website: https://www.gov.scot/coronavirus-covid-19/
If you have any further questions about an enquiry or upcoming Covid test please contact our Artist Support team who will be happy to advise you further.
---
For more information about working on set amid Covid-19 and to learn about other Artist's experiences read our post here.