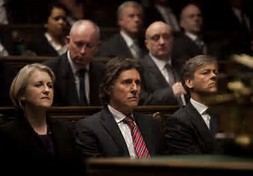 The dust has barely settled on the election, and analysis and reshuffles seem to be a daily occurrence. Deals are still being done but who do second AD's turn to when their brief is to find elected representatives, or powerful ruling bodies for the next film or TV drama?
Mad Dog 2020 have a great record of providing officials and MP's for many drama's over the years from the cabinet who were on screen for most of one episode of Channel 4's Secret State, to the entire UN for Jack Ryan Shadow Recruit, casting was very specific and needed to represent each countries UN spokespeople. Representatives in historical drama's include courtiers and ladies in waiting for multi award winning period drama Wolf Hall and the French Court in Alan Rickman Directed A Little Chaos.
Challenges from drama's set in current day Britain, or period drama's aside providing Aurors for MACUSA, the Magical Council of the USA, governing body for the American Wizarding society was a challenge on another level. Helping to develop a creative idea through extras casting which meets the expectations and imaginations of those working on a film like Fantastic Beasts was challenging but very rewarding. Factual accuracy was set aside to create a whole new magical world set in 1920's New York.
Back to the current day and finding the right people to fill the House of Commons, there are now 208 women MP's, a record breaking number but if you are looking for people to fill the Labour benches you need 45% females while for the Conservative side it is just 21%. It is also the most diverse Parliament to date with 52 MP's from ethnic minority backgrounds, and increases in LGBT and disabled MP's. MP's are also getting younger unlike the House of Lords whose 818 members have an average age of 70.
So if you need a cabinet, Hose of Commons or the Lords contact Mad Dog 2020 on 0207 269 7910.