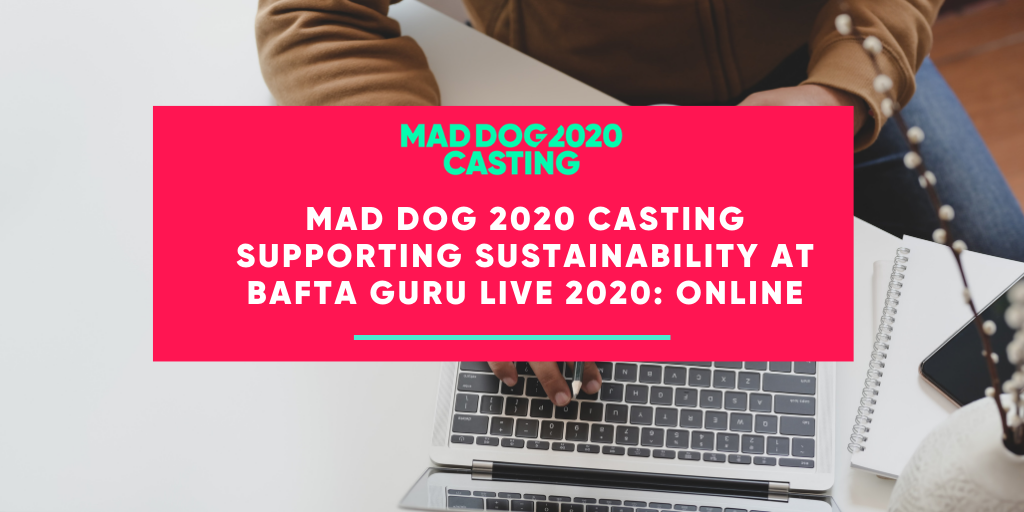 Like most live events and awards ceremonies in 2020, BAFTA's annual Guru Live will be turning virtual. Through a series of Zoom webinars, BAFTA has created a line-up of masterclasses and Q&A events, free to the public.
Showcasing exclusive events with creatives working on the biggest and best productions in the UK, Guru Live is a must-watch for those getting started in the industry. Catering to those with few credits or none, Guru Live covers informative aspects of film, games and television productions.
This year, Mad Dog 2020 Casting is sponsoring the session: Climate Crisis to Climate Action on Screen on 23rd November. Focusing on reducing the industry's impact on the environment, the session will discuss the climate context. The session will showcase a live discussion with Lisa Holdsworth, writer of Call the Midwife and A Discovery of Witches and Aaron Matthews, Head of Industry Sustainability at Albert.
No stranger to working with Albert-Accredited projects, Mad Dog 2020 Casting is currently working on green productions which have resumed amid Covid-19 regulations. Mad Dog 2020 Casting champion sustainability in our industry, being one of the first background organisations to adopt the use of online chits with our easy to use ChitsApp.
"As official TV Craft partner, Mad Dog 2020 Casting has been working closely with BAFTA throughout 2020, championing the Television industry at a time when it's needed most. The importance of supporting home-grown talent at all levels of skill and experience is very important to our organisation. We are thrilled that Guru Live is going virtual to allow creatives to access the sessions -we look forward to continuing the conversation surrounding sustainable productions at Guru Live 2020."

– CEO of Mad Dog 2020 Casting, Graham Beswick
---
Get your free Tickets
Guru Live 2020: Online will run from 11th to 30th November 2020. All events will be free to the public, providing you register your interest for your preferred session online. Register your interest in the Climate Crisis to Climate Action on Screen session, here.