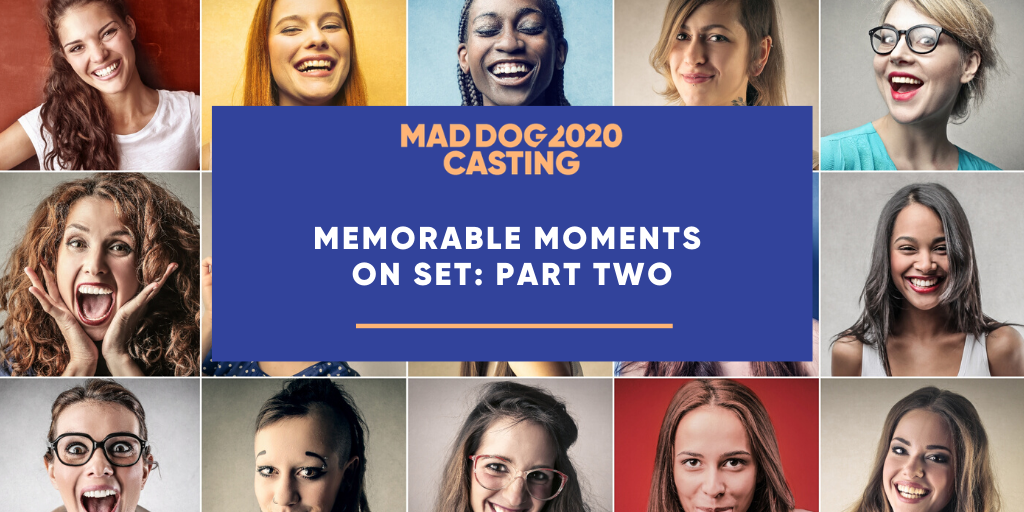 Some weeks ago, we shared a selection of on set experiences from a whole host of our superb Supporting Artists. We were overwhelmed by the influx of stories that our Artists wanted to share, so we knew a 'part two' would be around the corner. Take a look at some of our Artists more memorable moments on set:
"It was a huge honour to serve Asa Butterfield flowers and a sandwich as a checkout girl in Sex Education!" – Volente, Supporting Artist on Sex Education, Series 2
"Working on the TV show Britannia – I learnt so much and even got to be a part of a battle scene. It was an awesome cast and I had a great time" – Domenica, Supporting Artist on Sky's Britannia
"It was a great few days meeting new people and pretending to be an 'Oxford student'. The weather was amazing on the day and the cast and crew were very professional. It was very cool to see some of the big stars on set – An unforgettable experience!" – William, Supporting Artist on His Dark Materials
"The crew were really warm and welcoming which made it a great experience. I have had some fabulous opportunities through Mad Dog 2020 Casting – thank you!" – Andre, Supporting Artist on the Primula Cheese commercial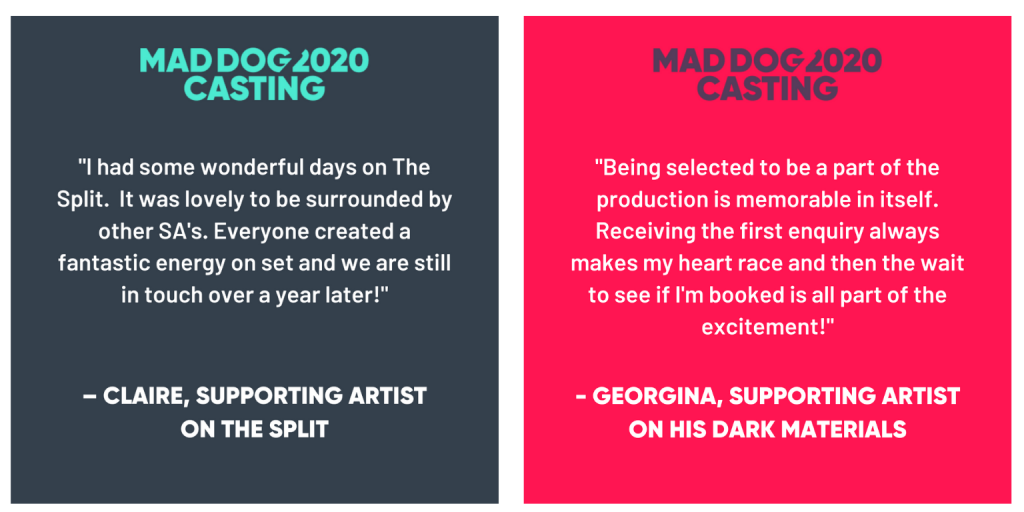 "I enjoyed my time as an 'audience member' for the reconstruction of the infamous coughing scenes in Quiz – meeting up with old friends and watching Michael Sheen turn into Chris Tarrant was a real treat" – Selena, Supporting Artist on Quiz
"I spent a whole day on top of a building in Leicester Square as a 'CIA drone operative' for an episode of Amazon's Jack Ryan. It was very memorable." – Adam, Supporting Artist on Jack Ryan, Season 2
"I love working on photoshoots – my favourite through Mad Dog was for Disney. The best thing was that it was a last-minute booking, so it was such a surprise. I had a great time on set." – Tayah, Supporting Artist in a Disney commercial photoshoot
"I had a great time working on the upcoming Death on the Nile. The crew were amazing, and the costume and make-up were incredible too. It was a very pleasant experience." – Edwina, Supporting Artist on the feature film, Death on the Nile (coming soon)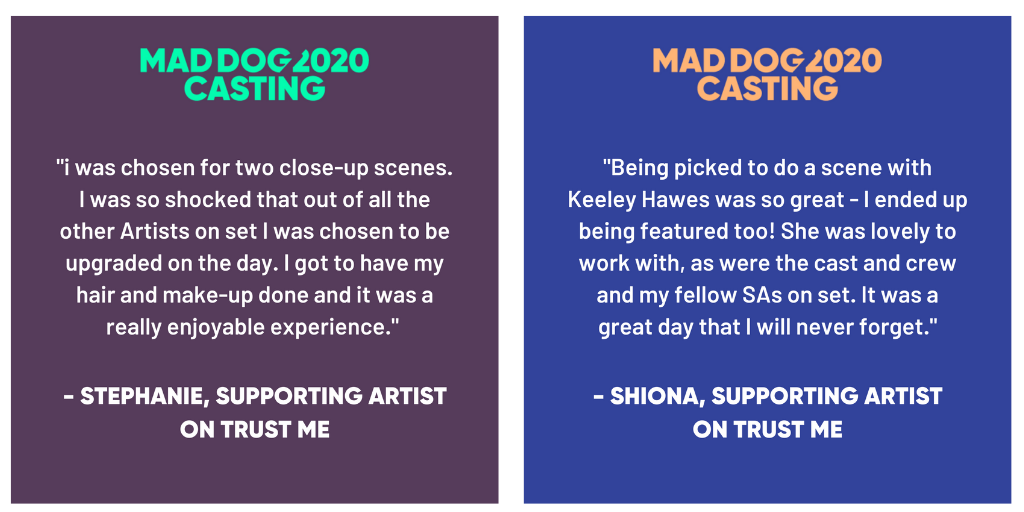 "I had a fantastic time on location at the lido in Pontypridd filming for Google. We had jumped into the water several times. We laughed so much, it didn't feel like work!" – Libby, Supporting Artist in a Google commercial.
"Being involved in the wedding scene, and walking onto such a wonderful set was an amazing experience I'll never forget" – Scott, Supporting Artist on Outlander, series 5
"My role was 'Father of the Groom', filming in Newport over three days and it unexpectedly became a featured role. In one scene I was seated at the top table with the lead cast, including Amanda Redman." – Don, Featured artist in Four Stories (coming soon)
Since the industry has been given the green light to return to filming we will be looking forward to slowly and safely getting our Supporting Artists back to what they do best. Mad Dog 2020 Casting is proud to continue to work on the biggest and best productions which are broadcast and loved globally. Keep an eye on our social media channels to see what's coming up next featuring Mad Dog 2020 Casting's Supporting Artists.
If your production seeking the best in background casting, contact us to discuss the requirement of your brief with a Project Manager.