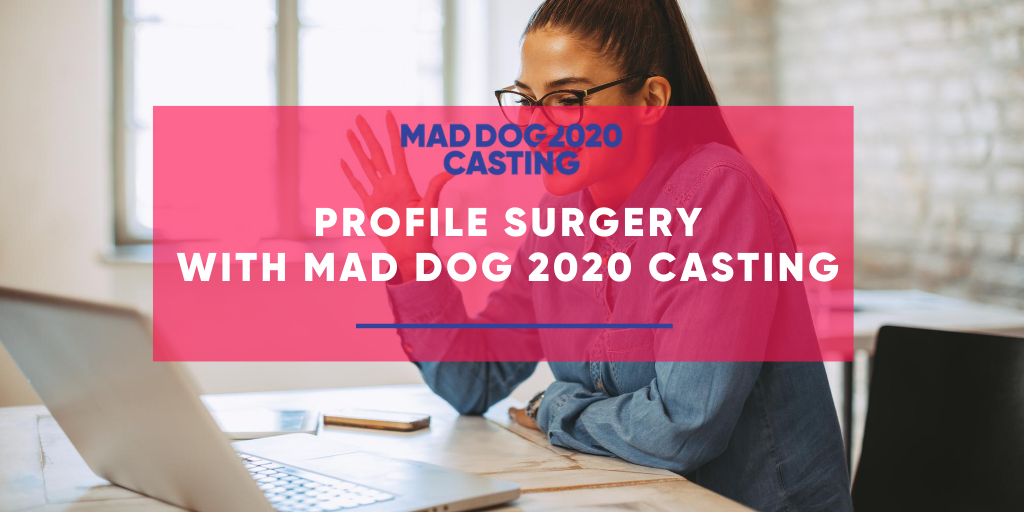 Profile Surgery with Mad Dog 2020 Casting
Mad Dog 2020 Casting are always firm believers in staying connected with our artists, ensuring two-way communication, whether that be through direct contact, social media or our new Profile Surgeries. The sessions are aimed at helping artists maximise their profile potential by providing tailored advice with a member of our team.
What is Profile Surgery?
Profile Surgery is a 5-minute one-on-one video call conducted via Zoom with a member of the Mad Dog 2020 Casting team. In these sessions, we will comb through your profile and advise how to optimise this best, including what to add, amend, and anything else that may improve it.
Our Profile Surgery aims to engage in face to face, tailored sessions, which we hope will in turn help increase your chances of being booked on upcoming productions.
Artists who register interest in the sessions will be sent an invite and asked to book a time slot. You will be required to download Zoom (a free video calling platform) and we will provide the access details the morning of the session. Once booked, our team will contact you on the day of your Profile Surgery with a Zoom meeting ID and the name of the team member who will be calling.
Artist Feedback
Initially, we ran a trial of Profile Surgery sessions for a small selection of artists who we identified as having certain gaps in their profiles. Following an overwhelming amount of interest and excellent feedback, we have now opened the opportunity to all registered artists:
Stay connected
We need to stay connected with our artists, now more than ever. Feedback from artists has identified that they greatly benefit from the Profile Surgery video calls, whether that be from meeting a member of our team, gaining valuable advice they did not know they needed or simply reconnecting with us.
We have continued to operate throughout lockdown and have held profile surgery calls every week to support and prepare our artist for the future. Mad Dog 2020 Casting is constantly developing new ways to go the extra mile. We love to engage with our artists and identify how we can provide further support. We are proud to create and continue the conversation via our blogs, social media channels and our Artist Support team.  Do not forget to check out our #TuesdayTips every week across our social media channels for extra suggestions on how to optimise your profile to the fullest.
---
We are currently offering Profile Surgeries to registered artists only. Artists currently on a waiting list may be invited to take part in the future.
Interested in Profile Surgery? Contact info@maddog2020casting.com with your name, Artist ID number and state that you are interested in Profile Surgery.