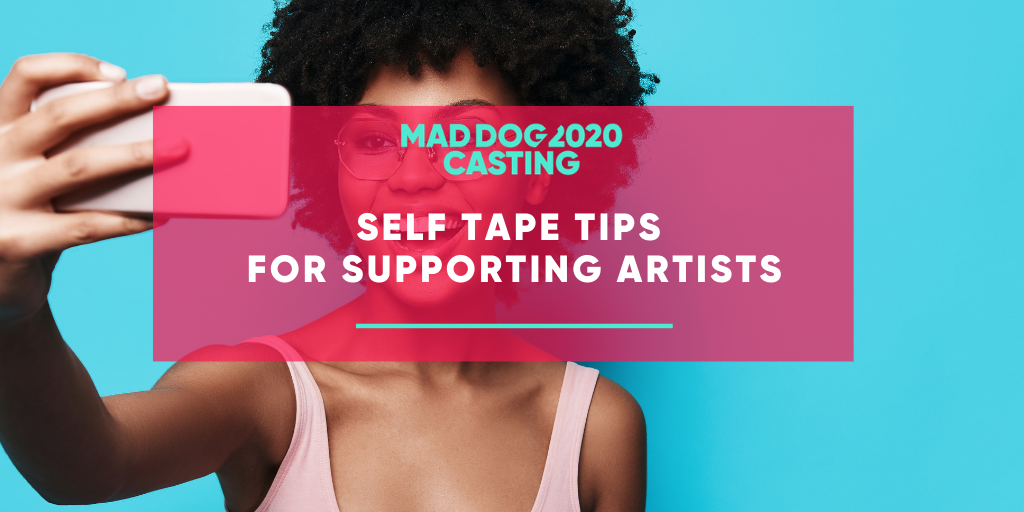 At Mad Dog 2020 Casting we are often presented with casting requests for featured roles. These toles may require dialogue or a specific creative reaction. In this instance, you may be required to attend a casting or submit a self tape to virtually audition for these roles.
With Covid-19 prompting a shift towards the virtual world, there has been an increase in productions requiring self tapes. With this in mind, we've put together some top tips on how to produce the best self tape.
How to set up your Self Tape
There are five components to think about when setting up to film your tape. Let's take an in-depth look at the vital components to consider:
Device – Most Artists will record on a phone or tablet. This makes it easy to both record and send the final version of your self tape to your agency. We recommend propping your device up on something sturdy. Also, make sure you are positioned well in the frame without too much or too little space surrounding you. Very important: always film in landscape and not portrait!
Location – If the scene is set in a warehouse, you do not have to film in a warehouse! Every tape should be against a plain background (white or grey), with minimal distractions in the frame. We recommend not filming outside unless required to do so, as this can produce distracting visuals and background noises.
Sound – Ensure you're positioned a good distance from the camera. We suggest a good 3m distance or more (depending on if you are required to film your whole body). This not only ensures a clear picture but in addition, a good sound quality.
Lighting – Lighting should be kept as natural as possible to ensure that you are easy to see. If filming at night, make sure additional lighting is kept out of the frame as this can be distracting.
Editing – Where you can please edit multiple videos (eg idents and takes) together. If you are having too much technical difficulty, our team can offer guidance and assistance.
Directions
Always follow the directions of the enquiry clearly to ensure that your recording meets all requirements. Once we have received your tape, Mad Dog 2020 Casting will send it to production to consider you for the role.
Idents – Sometimes you will have to film an ident at the opening of your tape. You will need to state your name and agent to camera and show your profiles. When showing your profile, you should turn your whole body both to the left then the right (not just your head).
Remember, if you are unclear on any requirements please contact our Artist Support team who can run through details with you over the phone.
Deadlines
We often work to very tight deadlines and need to facilitate fast turnarounds when it comes to self tapes which is why we will set a deadline for submissions. If you cannot submit your tape by the required deadline, please let us know as soon as possible. Please do not say you can self tape and then not send one in as this causes a lot of issues with the client and can mean they won't come to us for featured roles in the future.
Sending your Self Tape
If we have requested a self tape from you this would be in an enquiry. We will always detail the correct email address and Project Manager to send your tape to, so ensure you have used the correct email address by double-checking your sent messages.
We recommend using WeTransfer.Com to send us your tapes. The website allows you to send video files via email within minutes, you don't have to sign up or create an account and the process is complete within minutes.
Self Tape Top tips
Always refer to the deadline – we cannot accept tapes a day or week after the time specified.
Watch your tape back before sending to ensure that you are happy with the content.
Don't ad-lib if not requested, production want to know that you can follow direction.
If unsure on the direction or any information required, please contact our Artist Support team.
Recommendations
Check out some of this self-tape advice from industry professionals:
---
More Top tips
Want to gain more tips and boost your Artist profile? Check out our selfie guide, showcasing the dos and don'ts of selfies here.