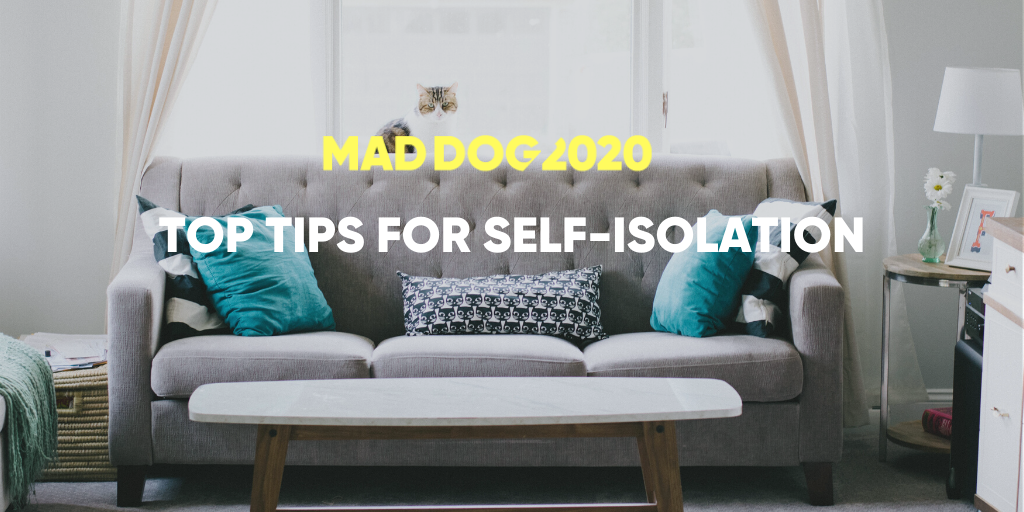 During unprecedented times it is incredibly important to maintain normality as much as possible.  With the UK now restricted to our homes for the majority of the day, Mad Dog 2020 Casting have been getting creative.  This week, we wanted to share some of our top tips with you!
Let the binge-watching commence!
If you follow us on social media, you'll see that we've been sharing our top staff picks to plough through whilst in self-isolation.  Last week, we shone the spotlight on streaming services and ones to watch in our blog.  Take a look at these essential films for your watch list, featuring our Mad Dog 2020 Artists:
The Darkest Hour – available on Netflix
Fisherman's Friends – available on Prime Video
Aladdin – available on Disney +
Into the Woods – available on iTunes
Dunkirk – available on Netflix
Free Fire – available on Prime Video
Alice Through the Looking Glass – available on Disney +
Brooklyn – available on Prime Video
In Time – available on Netflix
Spider Man: Far from Home- available on Hulu
Cuban Fury – available on Prime Video
Fantastic Beasts and Where to Find Them – available on iTunes
We are proud to have worked on incredible features such as these, and we know our Artists are too.  Background, walk-on and featured Artists help tie these projects together – from large crowd scenes, to a passer-by.  Many freelance crew, and those in the film and TV industry are currently out of work during this uncertain period, but why not show your support by watching and spreading the word about these marvellous productions.
Your Environment
Whether you're a key worker attending work as normal (or even more than normal), working from home, or in self-isolation during the COVID-19 outbreak, there are a number of simple things you can do to inject normality into your day.  Here are some things the Mad Dog 2020 team have been doing:
Working together – our staff are currently working remotely as a precautionary measure during the virus outbreak but keeping calm and carrying on as normal.
Checking in – Each day our entire team has a group phone or video call. This is great for communication, setting goals, plans and keeping morale high!
A healthy work environment – If working from home, make sure you take regular breaks as you usually would in the workplace.  This will make an impact on your happiness and productivity throughout the day.
Reaching out – Mad Dog 2020 are here to support our Artists.  Remember to contact us via App Chat if you have any queries or concerns and our Artist Support team will be happy to assist.  Our upcoming personalised Profile Surgery sessions will enable you to ask us anything about your profile to increase your chances of being booked when productions recommence filming.
Enlist in a superb soundtrack! – Music is proven to increase productivity and having background noise can make your surroundings feel more normal, and less lonely if you're working from home alone.  Try swapping favourite playlists with colleagues.
Entertainment keeps spirits high so why not invest in a podcast, a book, try switching the pub for Skype or the HouseParty app and swap other suggestions with friends.
Mental Health and Wellbeing
Mental health and wellbeing is an incredibly important topic within the arts and creative industries.  During this period, we know that many of our Artists, clients and social following may not be in work at the moment.  So, we've put together some suggestions to stimulate your brain and entertain:
Comb through every part of your Artist profile. Check out our top tips blog post here
Get creative! Write a script!
Create a showreel of the productions you have been a part of – upload your showreel link to the first page of your Artist profile and don't forget to add your Spotlight Pin if you have one
Learn a new language or skill – check out apps like Duolingo or Memrise
Exercise at home – streaming services like Prime Video have hundreds of work-out videos available
We're here to help: Profile Surgery
Mad Dog 2020 Casting are here to support our Artists through advisory periods of self-isolation when most productions have postponed filming for the time being.  We are offering Profile Surgery sessions for Artists – free one-on-one video or phone calls with a member of our Artist Support team.  Enquiries will be sent regarding Profile Surgery in the coming weeks. Artists will be able to register interest and book into tailored sessions.  You'll have the opportunity to ask us anything about your profile with our expert Artist Support team.