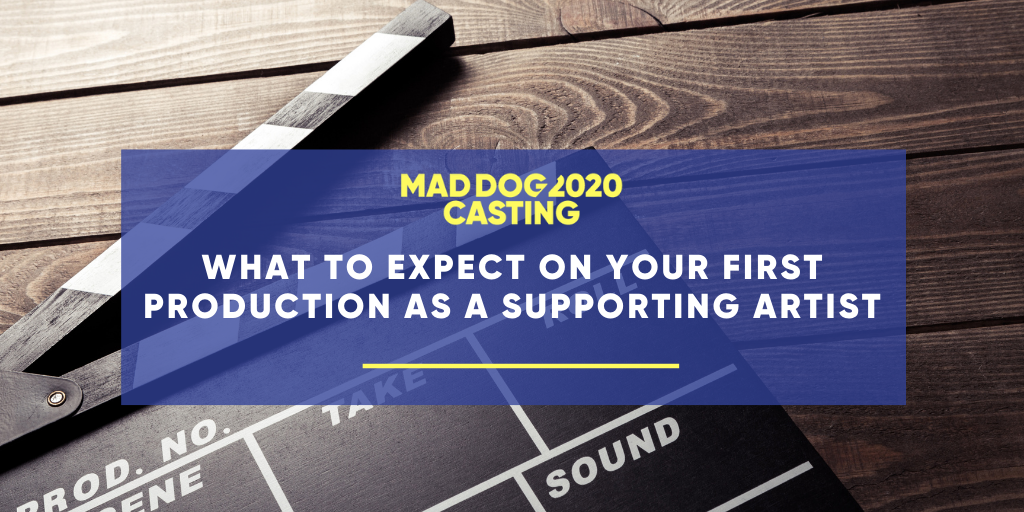 Congratulations, you're booked! This is the message you will see once you have been confirmed on your first production. The production company have hand-selected you as one of their Supporting Artists and you will now be working on your first production with Mad Dog 2020 Casting.
The road to your first day on set
When you become booked onto a production everything else will then begin to fall into place. Any fittings or covid tests will be booked by Mad Dog 2020 Casting and the dates, times and locations all communicated to you in your check-ins. A check-in arrives the day before your fitting, test or shoot day which is when we receive this information from production. As soon as we receive this, it will then be sent straight onto you, containing all of the necessary information for the day ahead.
Top Tip: Ensure you plan your journey to set as soon as you receive your check-in, if you have any queries, please contact our Artist Support team or if out of office hours speak with the Project Manager directly.
Covid-19
Due to Covid-19, covid testing has been brought into place. While some productions may test a few days before a shoot date, others might test on the day. We recommend re-reading your enquiries so that you are familiar with what that specific production is require in terms of testing.
Remember, you will usually be required to test at least once for every shoot date. If you cannot attend the covid test you cannot be considered for the filming. Check out our covid testing blog post for more information, here.
Remember: If you miss your Covid test or do not attend your allocated test time it will mean you can no longer be used for filming so it's really important to make sure you are clear on your date, time and location for the test.
What to take
Prepare for the weather ahead as you may at times be waiting inside or outside. If Mad Dog 2020 Casting is informed a shoot will be taking place outside, we will inform our Artists, but schedules can change daily so be sure to check the weather forecast before your shoot date.
Take or wear appropriate footwear, a coat or umbrella if needed.
Take a reusable water bottle to cut down on single-use plastic.
Pack any snacks or drinks you may want during the day around mealtimes.
Consider taking non-valuable entertainment such as a book, for times you may be waiting.
Anything that you must bring with you, additional costume or props will be specified in your check in and likely agreed beforehand via production, costume department and the Project Manager.
The Experience
On the day of your shoot, simply turn up to the location just before the time in your check-in and you will be directed where to go and when. You will spend the rest of your day on set with the cast, crew and fellow Supporting Artists.
Our Supporting Artists have had one-of-a-kind experiences on set, made friends for life and seen some great film, TV and commercial masters of their craft at work. Check out some of their memorable moments below: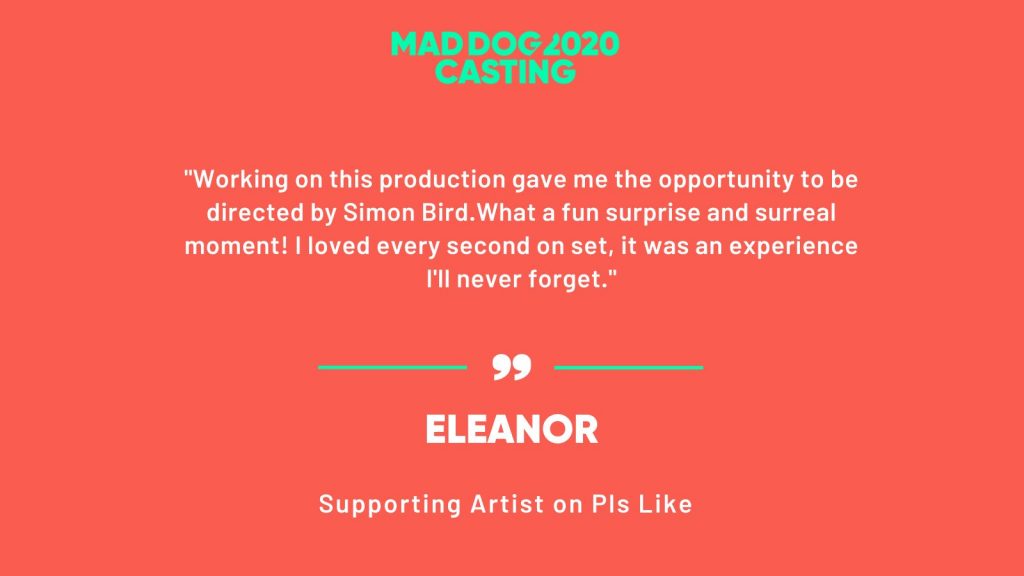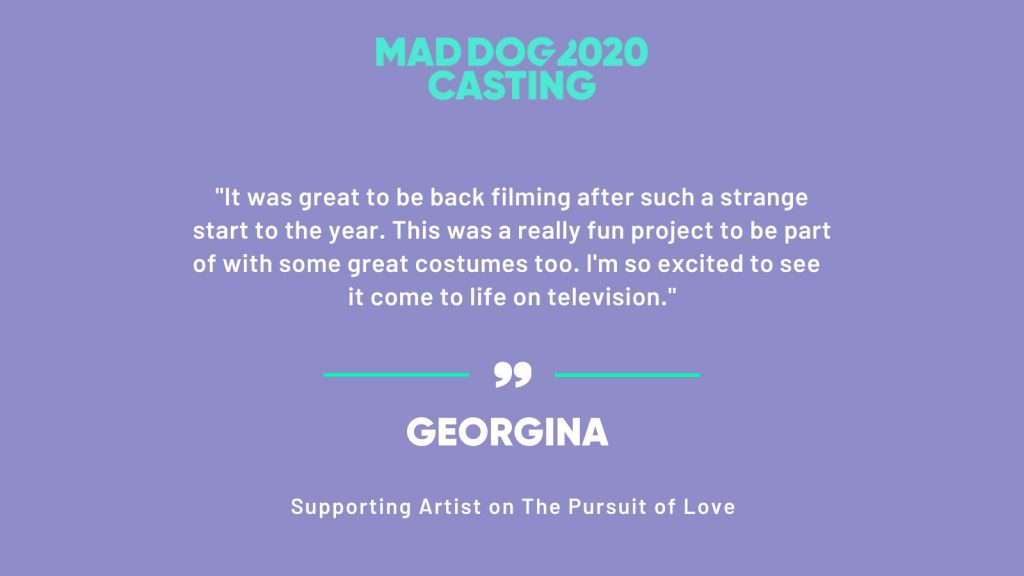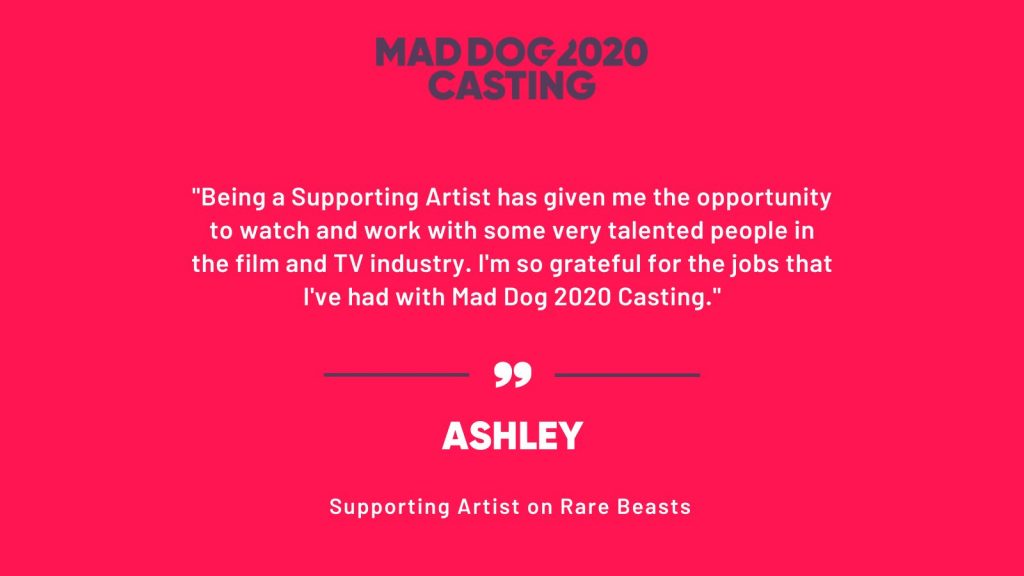 Further Questions?
Whether it is your first, fourth or fifty-fourth booking, our Artist Support team are always on hand to help. Artist Support is available 9:30 – 7:30 Monday to Friday and 9:30 – 6:00pm on a Friday and our Project Managers are contactable via phone for anything urgent regarding an upcoming booking, their details will be laid out in your check-in.
We encourage all Artists to reach out to our team if they have any queries or feedback and we hope you enjoy your time on set!