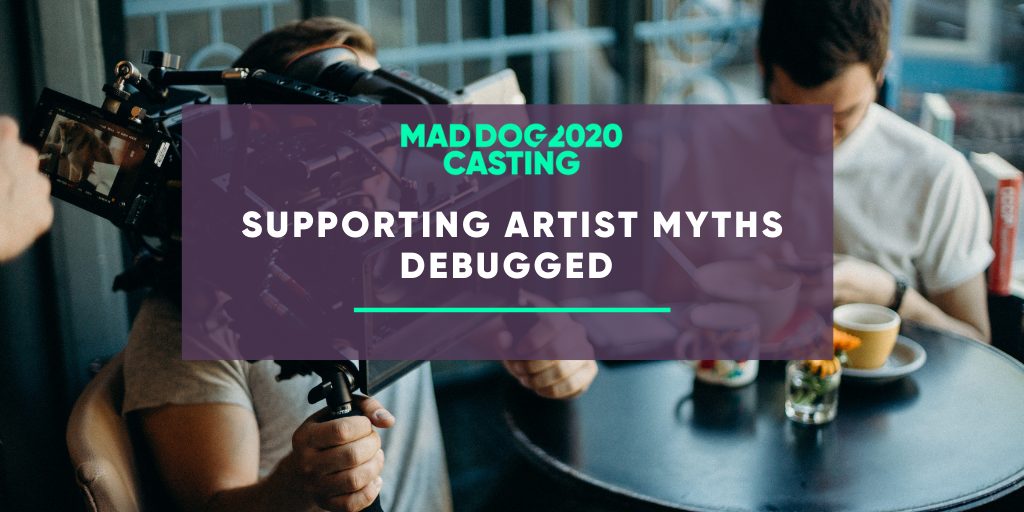 This week we did some research, asking some members of the public about their assumptions of Supporting Artists in the world of film, TV and commercials. We wanted to know about their perceptions of the day to day life of a Supporting Artist, to find out what common myths those not in the industry might believe. Here's what they said:  
"Extras are the least important people on set"
Wrong – Everyone on set is important and has a very important part to play in the production. While Supporting Artists may not be front and centre leading the story, without background action, scenes would not play out the same way. Those cast in background roles bring every scene to life, making the on-screen world they are in more believable to the audience.
"Supporting Artists never have speaking roles"
Not true – One of our Artists made such a great impression filming Sex Education series 1, the production requested for them to come back for the next series, but this time with a character name and small role.
The Director or Assistant Director may select Artists on the day or leading up to the shoot day, to say a word or a line on camera. Typically, Supporting Artists don't have speaking roles, but when the occasion arises, it will usually be between 1 – 10 lines of dialogue.
"I had a speaking part in a major BBC drama, Life, working with some of my favourite actors. I was treated like a true professional, was complemented by the director and even had my own trailer!"

Timothy, Supporting Artist on BBC One's Life
"Supporting Artists are not paid very well"
The daily rate can vary from one production to another depending on the rate of pay each production use. Most background casting agencies will take around 15% commission from each job you do and then the rest is yours, subject to one annual book fee. Artists booked on multiple dates, and those booked for continuity or featured roles can take home large sums for a few days' work.
At Mad Dog 2020 Casting, we always work with a union to ensure that Artists are working to approved industry rates.
"Extras are never used in multiple scenes"
Not necessarily – Supporting Artists are typically booked onto a production more than once for continuity reasons, so some Artists may work on multiple scenes in a recurring background role. However, if an SA was booked as a Wizard in an opening scene but then appeared as a non-magical person in another scene, it would throw the audience which is why they can't always work on a production more than once.
When an Artist is not recognisable in a scene, there may be a chance for them to work on that production again. We have previously cast Cinema Goers who have not been recognisable in a scene, therefore they were also booked as Jury Members too on the same film – It certainly does happen!
"SAs are not allowed to talk to the main cast "
Supporting Artists might often be required to interact with the cast in the background and foreground of a shot, meaning they might be working with some very recognisable faces. Of course, it's essential for Artists to follow their directions for the day and remain professional – not approaching the cast to ask for a selfie as they are at work too. However, it's certainly not unheard of for Artists to have conversations with well-known actors they're working with on set.
"I got to exchange a few words with Cillian Murphy [on set]. It was quite the experience, very humbling, but also so surprising as he was the one who approached me!"

Elisabeth, Supporting Artist on Peaky Blinders
"Work must be few and far between. It can't be a full-time job?"
Some Supporting Artists may have a full or part-time job, be a student or actor, as well as working on set as an SA. Others may do SA work the majority of the time, signed with different agencies and working across varying productions. Supporting Artists will always be needed to bring a production to life and there is the possibility of working on a new production each week or month, depending on the role requirements and your availability.  
Our advice is to keep your profile complete and up to date, always have good, recent photos in your photo gallery and put yourself forward for as much as possible. Remember, as it's the productions we work with who make the bookings we can not advise how likely it is you will be booked, so SA work may not be a reliable income for everyone.
"Background Artists don't have recurring roles"
Not true – most productions tend to film one scene over a few days or more, which means SAs will be booked for the duration of those shoot dates. You may be booked for 1 day or 10, depending on production's requirements. Take Sex Education for example, where production selects a pool of students that are regularly booked on multiple dates across most of the shoot's duration, this is for continuity.
"Background roles never lead to acting roles"
Wrong again! We have several Artists on our books who are signed to acting agents, working as both Actors and Supporting Artists across film, TV, commercials and more. Our Artists have been featured and cast in walk-on roles making them recognisable on screen in the likes of Cobra, Life, Extinction, A Christmas Gift From Bob, The Split and Small Axe to name a few.
One of our SAs was recently selected to appear as the first real-life person in a Wallace and Gromit adventure. They take centre stage within the AR app, as a fictional character taking app users on an interactive journey in The Big Fix Up .
Supporting Artist Memorable Moments
Our Supporting Artists have wonderful experiences to share, and you can spot snippets of their time on set across our social media channels. If you'd like to read up on some real-life experiences, check out our Memorable Moments blogs, part one and two.
If you would like to register your interest as a Supporting Artist please download the free Mad Dog 2020 app or visit our website here*. You will then be added to a waiting list and contacted if we feel we can offer you work on a specific role or production.
*Please note you are not guaranteed to be accepted onto the books.