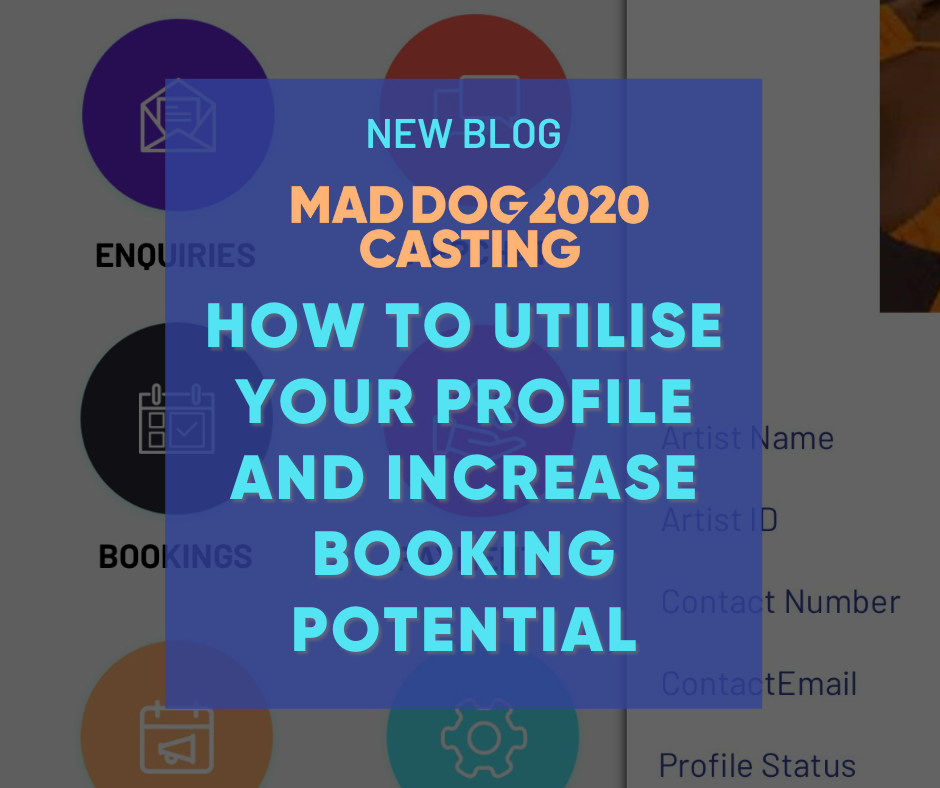 This week, we sat down with our team of Project Managers to quiz them on the information we're sure you want to know, how to use your profile to its full potential and increase the chances of becoming booked. While it's always production who make the booking decisions and not our PM's, they work closely with AD's and know what they're looking for when seeking Supporting Artists.
Scroll down to get to grips with these top tips from our Project Managers.
Abi says: Photos, photos, photos!
Having great photos is really important, and we don't always look for professional headshots because productions will usually request recent selfies. We have an excellent selfie guide which is really helpful for providing the best and worst examples of photos to upload to your profile. Well-lit colour photos, only of you and not taken in mirrors is what we look for.
Abi's tip: Upload a new selfie every month and also whenever your appearance changes. This way, we may not need to request you upload a new one for a certain production if it is already there. Appearance changes include a change to hairstyle, colour or length, cosmetic enhancements, changes to facial hair, tattoos and any noticeable weight gain or weight loss.
Niyoni needs: Up to date information
Up to date information from your contact details to measurements and skills are all important. If you have a blank profile, the likelihood is we will not contact you, so we always say the more information the better. If we're tasked with sourcing body doubles, stand-ins or Artists for crowd scenes, we always work to production's briefs. Sometimes this includes specific skills, measurements and looks.
Niyoni's tip: Pay attention to your appearance page – factors like measurements become extremely important for costumes so keep them up to date or contact our Artist Support team for help with this area of your profile.
Jill says: Right to work documents are a must
These documents are a must for all Artists if they want to work on set. Having these documents doesn't guarantee you will receive a booking, but without them, we simply can not put you on set. It's a requirement that all productions have, and it's an easy task for Artists to complete.
Jill's tip: You can add your NI number and photo of your passport to your profile, for most people that is all that is required. Those who need proof of their right to work in the UK should have a share code (or can apply for one via the Government) which they can upload to their profile on the RTW page.
Arron recommends: Show us your DBS certificates
Some Artists may think DBS certificates are a requirement and without one, you can't get any work – this isn't true. Occasionally, some productions will only consider SAs who do have a valid DBS, therefore it can increase some potential jobs, but this is not guaranteed. On other shoots, a production may not require DBS certificates at all. If we do need one in place for you to be considered for a role, this will be mentioned in your enquiries.
To add your DBS to your profile, take a photo and upload it to the documents folder in your photo gallery.
Arron's tip: All certificates must be updated (if you choose to purchase one) every 18 months to be considered valid – this is a rule set by productions and applies to basic and enhanced certificates.
Jade requires: Communication is key
My communication tips are for improving your chances of being booked are:
Respond to enquiries as soon a possible – this doesnt guarantee you'll be booked, but you wont miss out on enquiries that close.
If you have are unsure about information in your enquiries, contact Artist Support for clarification to ensure you are putting yourself forward for a production you are available for, and are also happy with it's requirements.
Keep your contact information up to date and let us know if anything changes. Without this, you may not recieve enquiries which means you wont be put forward or considered. We require your phone number/s, email address and address.
If you foresee any issues with any pencils or bookings, always contact our team straight away.
Hattie says:
My top tip would be to complete your profile to the fullest as this is what we look at when considering if you meet a productinon's requirements. With little to no information or photos on your profile we will not be able to put you forward for roles. Take you time to go through each page of your profile and complete it as well as you can. It could be the difference between getting noticed and sent job offers… or not.
Check out our advice
Our Mad Dog 2020 blog, Tuesday Tips and FAQ Friday posts on social media will give you additional tips and advice to utilise your profile as well as news and announcements at Mad Dog and within the industry.Check out some of our recommended reading below:
IMPORTANT DOCUMENTS FOR SUPPORTING ARTISTS (INCLUDING RIGHT TO WORK)
WORKING WITH MAD DOG 2020 CASTING: THE STEP-BY-STEP PROCESS
HOW TO TAKE ACCURATE BODY MEASUREMENTS